1. U.S. Stock Market:
"U.S. stocks edged higher on Thursday, as investors digested a wave of mostly upbeat corporate results, a day after the White House released an outline of President Trump's eagerly awaited tax plan. The S&P 500 index SPX, -0.08% was up 3 points, or 0.1%, to 2,390, with seven of the 11 main sectors trading higher. However, a sharp drop in oil prices weighed on energy shares, limiting gains for the index. The Nasdaq Composite Index COMP, +0.25% set an intraday high in early trade, after gaining 22 points, or 0.4%, to 6,041.6."
"U.S. stocks traded in a narrow range Thursday, within striking distance of all-time highs, ahead of major tech company earnings. The Dow Jones industrial average and the S&P 500 struggled to hold opening gains, while the tech-heavy Nasdaq composite climbed about a third of a percent to a fresh intraday record in early trade."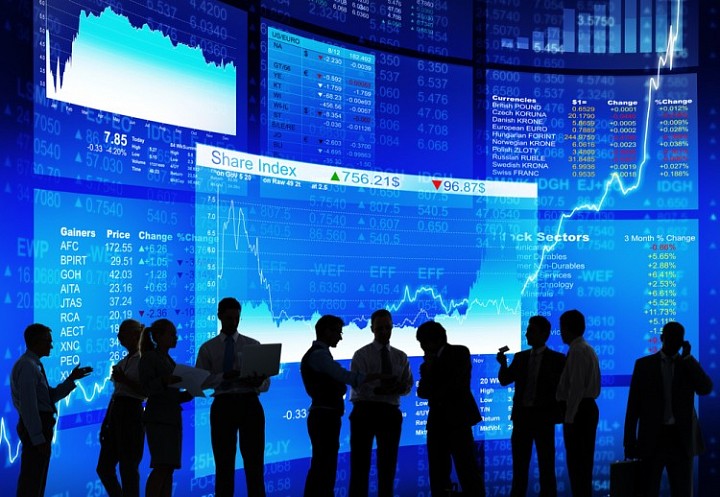 2. U.S. Bond Market:
"U.S. government debt prices were higher on Thursday morning as investors eyed several pieces of data. The yield on the benchmark 10-year Treasury note was lower at around 2.3071 percent, while the yield on the 30-year Treasury bond was also lower at 2.9634 percent. Yields move inversely to prices. On the data front on Thursday, initial jobless claims, durable goods and advance economic indicators are set to come out at 8:30 a.m. ET. Pending home sales and housing vacancies are due at 10:00 a.m."
"The U.S. Treasuries gained ahead of the country's Q1 gross domestic product (GDP), scheduled to be released on April 28. The yield on the benchmark 10-year Treasury fell nearly 1 basis points to 2.30 pct, the super-long 30-year bond yields slumped 1 basis point to 2.96 pct while the yield on short-term 2-year note also traded close to 1 basis point higher at 1.27 pct."
3. FX Markets:
"On the currency front, the U.S. dollar is trading at 111.40 yen compared to the 111.06 yen it fetched at the close of New York trading on Wednesday. Against the euro, the dollar is valued at $1.0918 compared to yesterday's $1.0904."
"The euro retraced gains on Thursday after European Central Bank President Mario Draghi said there isn't enough evidence to change the ECB's inflation outlook. EUR/USD was down 0.22% to 1.0880 by 09.22 ET, after rising as high as 1.0933 earlier. The euro pared back gains against the yen, with EUR/JPY last at 121.06, off an earlier high of 121.89. The single currency fell to the day's lows against sterling, with EUR/GBP falling 0.65% to 0.8433."
"The pound's gains against the dollar and the euro also weighed on the FTSE. Sterling rose 0.38% to US$1.2897 and 0.42% to €1.1832."
4. Commodities:
"U.S. crude oil prices fell below $49 a barrel on Thursday amid deteriorating gasoline prices and a higher dollar in the wake of European Central Bank's latest interest rate decision. Benchmark Brent and U.S. crude futures both fell about 2 percent in early morning trade, extending losses to fall below their 50-day moving averages. Both contracts have fallen in six of the last eight sessions, with only moderate gains on positive days. "
"While the European Central Bank is committed to its bond-purchase program at least to the end of the year, the euro and in turn gold prices saw a brief spike Thursday as the central bank appears to be more optimistic about the economy. Gold saw some modest renewed buying interest after the euro spiked higher, but the momentum didn't last with June Comex gold futures last trading at $1,265.20 an ounce, relatively unchanged on the day and near a two-week low. EUR/USD has not been able to hold onto its gains, with prices falling back to session lows. The currency pair last traded at $1.088, down 0.2% on the day."
"Silver closed at $17.49 yesterday after $17.63 at New York's close Tuesday. Silver is falling much faster than gold. As the silver price primarily reflects the U.S. silver market their price is certainly pointing downwards. If gold does not follow you can be sure that there will be a strong bounce soon. But of gold does break down, the silver price may well not fall as far."
5. Market Movers:
Shares of American Airlines Group Inc (NASDAQ:AAL) dropped more than 8 percent on Thursday after the company said it had offered a mid-contract pay increase for pilots and flight attendants. American said that the move, which overshadowed the carrier's solid quarterly earnings, will increase its salary and benefits expense by approximately $230 million for 2017 and $350 million for 2018 and 2019. Flight attendants and pilots at American ratified new five-year agreements in late 2014 and early 2015. Under the new proposal, announced on Wednesday, they will now receive on average 5 percent to 8 percent increases in hourly pay, respectively, in an adjustment to match rival carriers.
Although Under Armour Inc (NYSE:UA) posted its first-ever loss Thursday, it was not nearly as bad as some had feared, sending shares up more than 10 percent at one point. Here's what the company reported vs. what the Street was expecting: EPS: A loss of 1 cent vs. estimated loss of 4 cents, according to Thomson Reuters. Revenue: $1.12 billion vs. $1.11 billion, analysts said. Under Armour said it swung to a net loss of $2.3 million, or a penny per share, for the first quarter, from a profit of $19.2 million, or 4 cents per share, a year earlier. It said sales climbed nearly 7 percent to $1.12 billion from $1.05 billion a year earlier, boosted by increases in wholesale and direct-to-consumer revenues.
Nokia Oyj (ADR) (NYSE:NOK) NOK 5.12% shares are trading higher by $0.27 (4.9 percent) at $5.63 in Thursday's session. Investors seem to be satisfied with its Q1 report that revealed Q1 EPS of €0.03 that was flat year-over-year, and adjusted sales €5.4B vs. €5.6B last year. Nokia's higher opening tick of $5.70 stands as the high for the session. The retreat from that high has found support ahead of the top of Wednesday's range ($5.44) at $5.59.
Paypal Holdings Inc (NASDAQ:PYPL) PYPL, +7.59% stock topped record highs in after-hours trading Wednesday after the online-payments company beat earnings expectations and announced a $5 billion stock-repurchase plan. The company reported first-quarter net...
More