Higher Yields Benefited Prospect Capital's Stock in Fiscal 1Q16
Focus on controlled investments
Prospect Capital's (PSEC) controlled investments stood at 31.3% of its total portfolio, up from 29.9% as of June 30, 2015. The company has made three controlled investments, each over $100 million.
Prospect Capital has selectively monetized its controlled positions when it has found attractive pricing. Subsequently, it has deployed the proceeds into new, attractive opportunities yielding higher returns at lower risks.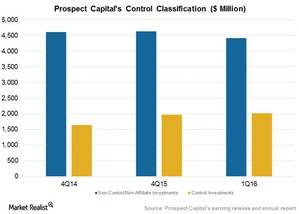 Prospect Capital is deploying investments for the online lending industry, with a focus on near-prime, prime, and subprime consumers as well as small business borrowers...
More