Editor's Note: Jon Vialoux is scheduled to appear on "BNN Tonight" tomorrow at 6:00 PM EDT.
StockTwits Released Yesterday
Seasonal chart of Presidential election years suggests weakness through April and May.
Editor's Note: Note that the blue and red lines above tends to peak now and moves lower to the third week in May. Given technical deterioration recorded by many equity indices and sectors yesterday, history shows signs of repeating this year.
Technical action by S&P 500 stocks to 10:30 AM: Mixed. Intermediate breakouts: $BMY, $PFE, $EBAY. Breakdowns: $DRI, $HRL, $FSLR, $FE.
Editor's Note: After 10:30 AM, two more stocks broke intermediate support: Baker Hughes and Footlocker.
Nice breakout by Pfizer $PFE above $30.90 on high volume to complete a double bottom pattern following Allergan news.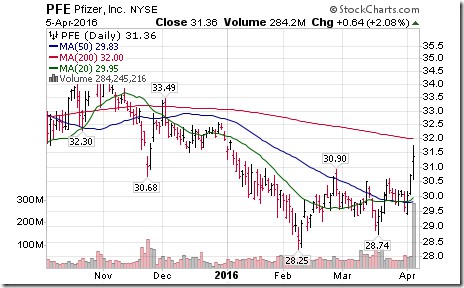 Trader's Corner
Significant weakness by momentum indicators triggered drops in Technical Scores
Daily Seasonal/Technical Equity Trends for April 5th 2016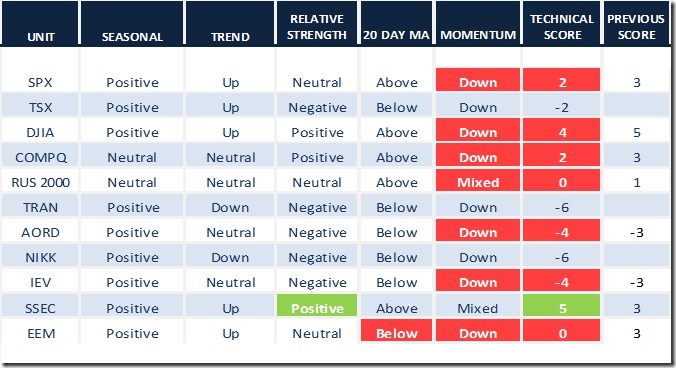 Green: Increase from previous day
Red: Decrease from previous day
Daily Seasonal/Technical Commodities Trends for April 5th 2016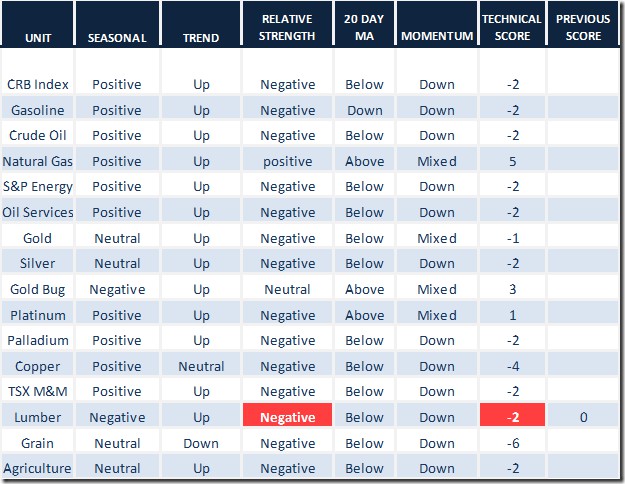 Green: Increase from previous day
Red: Decrease from previous day
Editor's Note: Technical deterioration by primary sectors was significant.
Daily Seasonal/Technical Sector Trends for March April 5th 2016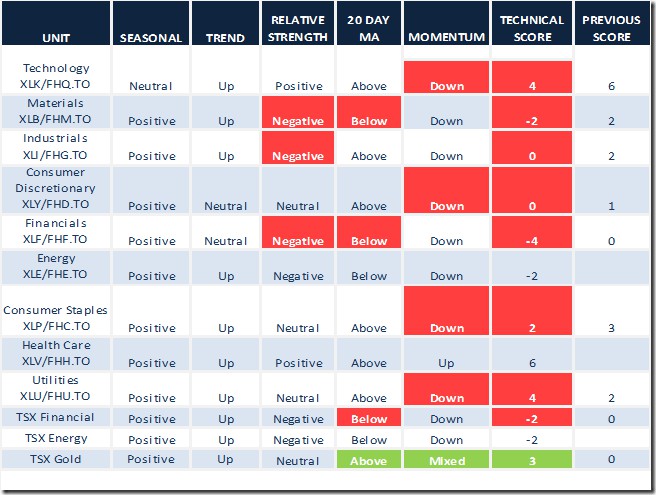 Green: Increase from previous day
Red: Decrease from previous day
Special Free Services available through www.equityclock.com
Equityclock.com is offering free access to a data base showing seasonal studies on individual stocks and sectors. The data base holds seasonality studies on over 1000 big and moderate cap securities and indices. To login, simply go to http://www.equityclock.com/charts/ Following is an example: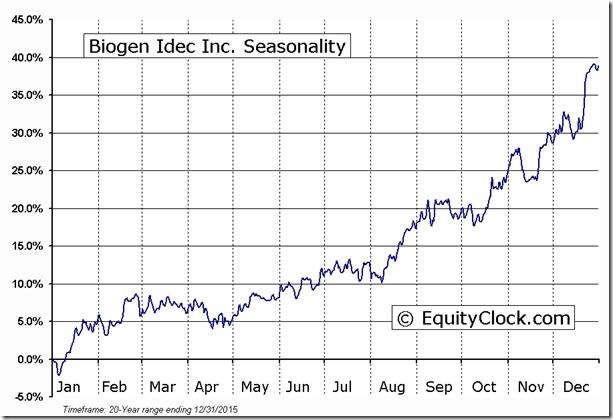 Adrienne Toghraie's "Trader's Coach" Column

Thinking & Acting Outside of the Box
By Adrienne Toghraie, Trader's Success Coach
Highly successful traders are, by definition, people who think and then act outside of the box for ways to conduct their lives and their businesses. As a unique class of individuals, they look for solutions to problems that are novel and off the beaten path.
Robert Frost was not thinking about traders when he ended his most famous poem, "The Road Less Taken," with these lines, but he certainly could have been: "Two roads diverged in a wood, and I… I took the one less traveled by, and that has made all the difference." Frost suggests that taking the road less traveled, although it is a difficult decision and the outcome is never certain, is the step in life that will make the difference between the ordinary and the extraordinary life. It is my experience, that traders do not enter one of the riskiest professions in order to lead ordinary lives.
In the markets, large profits are to be made when the individual trader looks at the same situation as everyone else does, but then sees advantages to taking a different direction.
The wrong exits in emergencies
So, knowing all of this, why do so many traders suddenly resort to the same strategy as the herd when things suddenly start going very badly or when the situation is new and uncertain? When confronted with an emergency, if everyone runs for the same exit, few of them will actually get through the door to safety.
This principle of following the herd in an emergency occurred in Japan's 2011 tsunami and it happened ten years earlier in the Twin Towers in 2001. Right after the initial earthquake, a large group of the nuclear reactor employees all decided simultaneously to run out of one of the buildings and were promptly swept away by the tsunami, while the few left behind in the facility were spared that catastrophe. In the second Twin Tower, those who followed the instructions over the loud speaker to stay put were trapped but those few who decided to run for it got out alive.
Why you can't think and act outside the box
The direction of the herd is usually the wrong one, especially in the markets. Yes, following a strong movement in the direction it's going is correct, but just to a point. The point of exit is where a trader has to know when to think outside the box. But, it's very difficult to think outside the box if the conditions are set for you to follow the herd:
· If you are trading in a room with a lot of other traders
· If you are trading in an environment that is constantly broadcasting the latest news and trends in the world and in the markets
· If you are consciously or unconsciously concerned about or motivated by the expectations of those whose opinions matter to you
· If you have a lack of self-confidence in your ability to take the road less traveled and succeed
· If you are not feeling strong, full of energy, and well-slept and focused
· If you are fearful of your present and future prospects
· If you have unresolved issues from your past that erode your ability to make clear decisions
Conditions for thinking and acting outside the box
As you can see, those are some powerful "ifs" that can easily derail your ability to live and work outside of the box. Here are some conditions that will support your effort:
· If you are working and living away from the herd
· If you surround yourself with others who think and act outside the box and support you when you do so
· If you trade in the quiet or the sound of calming music
· If you take care of your physical and mental health
· If you read articles, newsletters, books, blogs, etc. that express original thinking and views (based on solid information, historical data, and reasoning)
· If you take time off from your trading, through travel and exposure to new environments and people outside of your profession, to gain perspective
· If you work on your psychology to deal with unresolved issues that sabotage your trading
Conclusion
It is not just a matter of courage to be able to think and act outside of the box in order to be the most successful trader you can be. It takes the willingness to look at the conditions of your personal and professional life and make the necessary adjustments.
Adrienne's Free Webinars
Adrienne presents free webinars on the discipline of trading
Email Adrienne@TradingOnTarget.com
Tech Talk supported a variety of industrial
Accountability Report
and consumer discretionary equities and ETFs in Daily Reports, BNN and StockTwits during the past few weeks. All have started to underperform the S&P 500 Index and have recorded new downtrends by short term momentum indicators. These securities no longer are supported:
First Trust U.S. Industrials ETF (FHG.TO $19.73) supported on BNN on February 12th at $17.63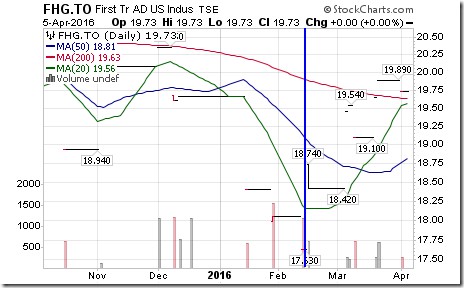 Honeywell (HON $111.78) supported in StockTwits on February 17th at $105.93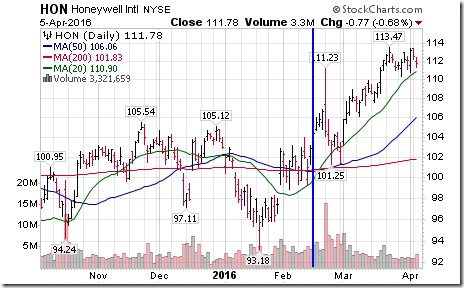 Cdn. National Railway (CNI $61.23) supported in StockTwits on February 23rd at $58.24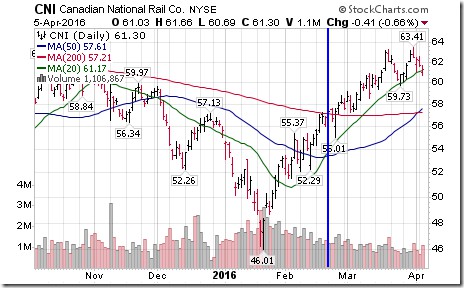 Home Depot (HD $134.58) supported initially in StockTwits on February 23rd at $124.53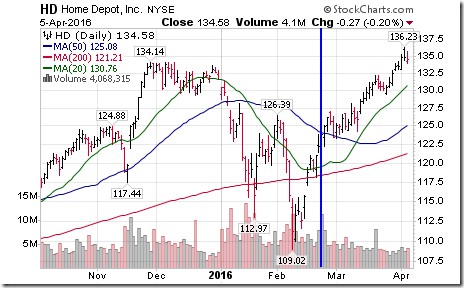 S&P Consumer Discretionary Index (SPCC $) initially supported on February 25 in Stock Talk report at 588.13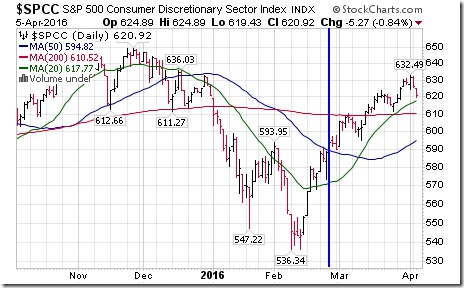 MMM (MMM $165.81) initially supported on February 26th in a Tech Talk report at $158.99.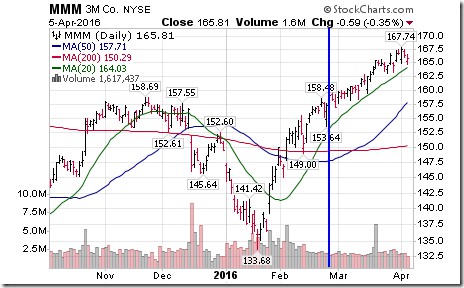 United Technologies (UTX $99.86) initially supported on February 26th in a Tech Talk report at $98.07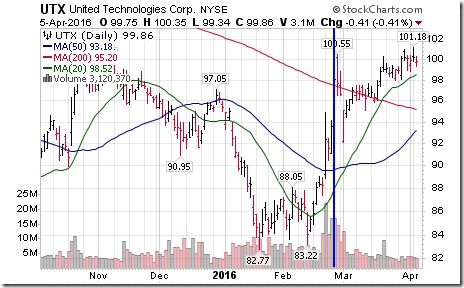 Also, George Weston (WN.TO $114.19) supported on February 23rd at $108.14 in StockTwits. Note the break below support yesterday.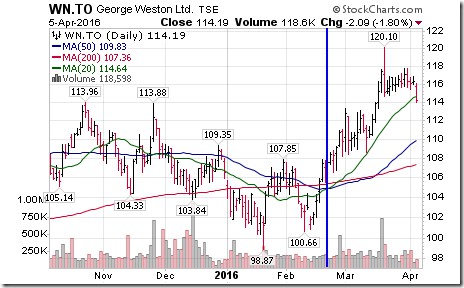 Disclaimer: Seasonality and technical ratings offered in this report by www.timingthemarket.ca and www.equityclock.com are for information only. They should not be considered as advice to purchase or to sell mentioned securities. Data offered in this report is believed to be accurate, but is not guaranteed