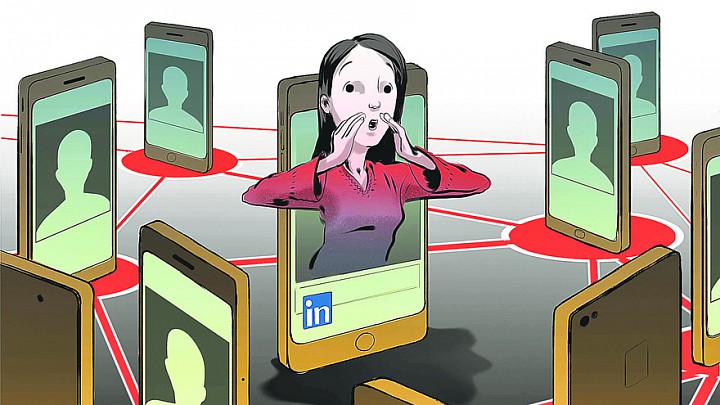 1. We say social network, you say jobs site
LinkedIn LNKD, +0.76% markets itself as a "social network and online platform for professionals" and is often mentioned in the same breath as FacebookFB, -2.68% and Twitter TWTR, +2.32% , but analysts say that it's more of a traditional jobs site than a social network. Indeed, many people spend time rejecting "I'd like to connect" invitations from total strangers. "It's not a social network at all," says Jeremy Roberts, editor of SourceCon, a blog and conference series for recruiters. "You've got Facebook for family, Twitter for reading the news and sharing opinions, and LinkedIn for work. But LinkedIn is not a social network." He compares it to a jobs board such as Monster.com, CareerBuilder and Glassdoor. "It's more of a human resources tool serving corporations rather than consumers," Roberts says.
A jobs site doesn't earn as much money from advertisers as a social network. Last October, LinkedIn reported third-quarter revenue growth of 45% year-over-year to $568 million; 61% of that came from "talent solutions" where recruiters and corporations pay to engage with potential talent. "Marketing solutions" (advertising sales) contributed 19% and "premium subscriptions" accounted for 20%. In contrast, over 90% of Facebook's third-quarter $3.2 billion in revenue came from ads. LinkedIn reported a net loss of $4.3 million in the third quarter versus a net loss of $3.4 million for the same period a year ago (but posted earnings before interest, taxes, depreciation and amortization of $151 million versus $93 million a year earlier.)
Others say LinkedIn — which has over 330 million members worldwide, 100 million of which are in the U.S. — meets the definition of both a social network and jobs site, as people join online groups within their industry and keep tabs on professional contacts. "You might be looking for a job, but we want to be able to give our members the tools to be better at their job as well," says Crystal Braswell, a spokeswoman for LinkedIn. Sharing volunteer work, blogging on LinkedIn's publishing platform and/or promoting causes close to your heart might bring you to the attention of a hiring manager, she says. "It's not just about the skill fit, but also about the cultural fit," Braswell adds.
http://www.marketwatch.com/story/10-things-linkedin-wont-tel...