The pound is rallying sharply to start the week after ending the last week with a strong push as well. 

GBP/USD Daily Chart 6/20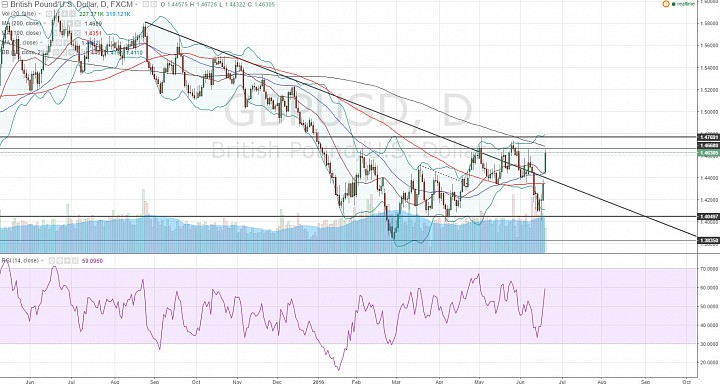 (click to enlarge)

Resistance Just Above:
GBP/USD rallied sharply in 2 sessions to go from the 1.4050 pivot up to the 1.4670 resistance area. We can see that there is resistance up to the 1.4770 level. 

Brexit Vote and Key Levels:
Conventional wisdom says that the pound is too hot right now, with a potential surge in volatility around the Brexit vote on Thursday. If the UK exits the EU, there should be a lot of risk aversion. GBP will probably get hammered, USD, JPY, and CHF will probably gain from risk aversion flows.

For GBP/USD, let's see which side of 1.4770 it will stay after the vote. I would assume that if UK remains, GBP/USD will break above and open up the 1.58 area and the 2015 highs above that.

If price can't penetrate the 1.4770-1.48 area, and there is a Brexit, I don't really know how the market will react, but it would make more sense that in the short-term, GBP/USD would fall back towards the 1.40 area.