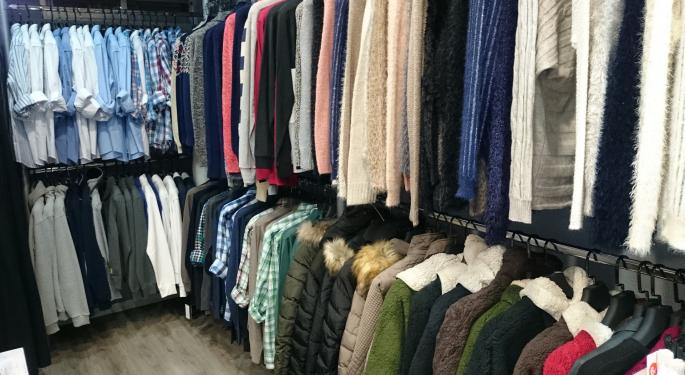 Jefferies expects "modest same-store sales growth from discounters in the range of 0.5–2.5 percent for Q1," and maintains its same-store sales estimate for major discount chains.
The brokerage's same store sales estimates for various discount retailers are as follows:
"We think the macro environment has been improving modestly for lower income consumers as their wages rise, so we could see a trickle down to retail spending over the next few quarters," analyst Daniel Binder explicated.
Below is a brief take from Binder on the various discount retailers.
Wal-Mart: Hold, PT $60
"Shorter-term we think sales remain modest and EPS should be attainable after substantial downward revisions, but we remain concerned about online conversion and mediocre sales growth versus competition, weak international results and more recently the risks associated with grocery deflation."
The analyst sees first quarter EPS of $0.88 (vs. the Street's $0.89).
Target: Hold, PT $78
Binder sees first quarter EPS of $1.20, in line with the Street.
"We think that signature categories continued to perform well, especially in the early part of the quarter when weather was warmer. Target is working to get retail fundamentals right to support future growth."
Dollar General: Buy, PT $97
The analyst projects first quarter EPS of $0.94 versus the Street's $0.95.
"DG's multi-year growth algorithm shows compelling growth ahead as store growth remains robust and the SG&A leverage point is lowered. While management is building in price investment to the outlook, there are several initiatives that could push margins higher."
Dollar Tree: Hold, PT $75
The analyst maintained his first quarter EPS estimate of $0.81, in line with the Street.
"During the quarter, we hosted DLTR at our IR Summit where the message continued to be mixed on the consumer — cost pressures on the low end consumer is offsetting, better wages, jobs and credit data."
So far, there is no disruption to business from integration. But, the analyst said the next few quarters will say a lot regarding how smoothly the integration is going.
© 2016 Benzinga.com. Benzinga does not provide investment advice. All rights reserved.