Gilead Sciences is a biopharmaceutical company that discovers, develops and commercializes innovative therapeutics in areas of unmet medical need. The company's mission is to advance the care of patients suffering from life-threatening diseases. Gilead has operations in more than 30 countries worldwide, with headquarters in Foster City, California.

1) Financial analysis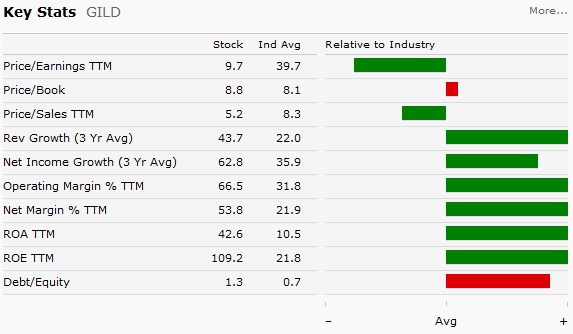 First and foremost, price to earnings ratio is unreasonably low for a pharmaceutical company. Moreover Gilead is not a second-tier player, it is one of the largest companies of the industry, so in a stable financial position company looks very cheap. Moreover, growth rates are indeed impressive and lag behind growth rate of shares.

Gilead has shown outstanding results in 2014, and this is the case when there is every reason to believe that the current year will be no less spectacular. Last year revenue was $24 890 millions, while EPS was $7,35. As for the results of the first nine months, revenue has approached the 12 months of last year and amounts to 24 133 million. And earnings per share, due to the repurchase program, already makes $ 8.74. This way, while maintaining the current rate, by the end of the year, we are likely to see revenues of about $ 31 000 millions and earnings of more than $ 10 per share. The estimated growth of 25-30%, respectively.

Thanks to the successful launch of new drugs net margin of 53.8% also looks impressive, and higher than the average competitor's by more than 2 times! Return on assets index is even more powerful, higher than the average competitor's 4 times, and is 42.6. (this is one of the highest rates in the stock market among companies that are more expensive than $10B).

Fly in the ointment in this situation is a rather large debt. But first debt to equity ratio 1.5 is not such a big problem on the background of outstanding financial results, and its maintenance is easy. Secondly, at the moment cash & equivalents are equal $13 965 millions, while the debt is $21 894 millions. Therefore, Gilead has the opportunity to reduce the debt by more than 2 times by the available funds having involved.

Finally, it seems that for some reason, the market simply does not notice the paper, and Gilead's share price has not kept pace with growing revenues.

2) Market conditions

According to the Financial Times , the global HIV market was worth $20 billion in 2013. Gilead Sciences is a global leader in the HIV market, with HIV drugs accounting for about 42% of the company's total revenues.

Gilead Sciences is considered to be the market leader in the treatment of HIV. The company has an extensive portfolio of HIV drugs such as Viread, Atripla, Truvada, Stribild, and Complera, or Eviplera in Europe. These medications are termed as antiretroviral drugs and are formulated as a combination of three or more drugs. However, Gilead's entire HIV product portfolio is based on Viread, which is a brand name of a compound called tenofovir. These drugs accounted for about 42% of the company's total revenues in 2014. Gilead Sciences has entered into a contract with Teva Pharmaceuticals to delay the launch of its generic Viread version until December 2015, when the original drug will lose its patent protection. The company is also actively involved in developing HIV drugs based on another compound, tenofovir alafenamide, with an improved safety profile. This will help Gilead protect itself from market erosion once Viread goes off patent.

Gilead Sciences' two hepatitis drugs, Sovaldi and Harvoni, have catapulted the company to dominance in the HCV market. Launched in 2013 and 2014, these two drugs managed to cross the $1 billion revenue mark and achieve blockbuster status in the first full quarter post-commercialization. By 2Q15, about 470,000 HCV patients in the world were being treated by Sovaldi and Harvoni.Drugmaker Gilead Sciences Inc said on Thursday the U.S. Food and Drug Administration had approved the expanded use of its blockbuster hepatitis C drug, Harvoni. The drug can now be used to treat patients with subtypes of chronic hepatitis C virus (HCV) and patients who are co-infected with Human Immunodeficiency Virus (HIV), Gilead said in a statement. The once-daily pill, used in combination with antiviral ribavirin, was also approved to be used for 12 weeks as an alternate therapy to Harvoni alone, which is used for 24 weeks to treat patients with cirrhosis.

Gilead's blockbuster Harvoni was first approved by the FDA in October 2014. The drug had sales of about $3.3 billion in the latest quarter ended Sept 30. Hepatitis C, estimated to infect about 3.2 million Americans, is a viral disease that causes inflammation of the liver that can lead to liver failure.Gilead Sciences Inc on Tuesday said its quarterly profit rose 70 percent, but sales growth for its hepatitis C drugs flattened as health insurers limited access to the expensive treatments.

Shares of the biotechnology company fell slightly. Gilead's quarterly product sales rose 37 percent to $8.2 billion. Sales of hepatitis C drugs Sovaldi and Harvoni totaled $4.8 billion, which was just ahead of the $4.5 billion average Wall Street estimate, but little changed from second quarter sales.

For hepatitis C sales, "2016 I think will be a more stable year in the U.S.," Gilead Chief Operating Officer John Milligan said on a conference call with analysts and investors. He said the company is "doing a lot of work to encourage earlier treatment, more screening and so on," but U.S. insurers are still being selective in authorizing treatment.Gilead's HIV drugs contain a drug called tenofovir disoproxil fumarate, or TDF, brand name Viread. Viread is expected to lose its patent protection in 2018.

Gilead Sciences has been actively researching new drugs and other indications for existing HIV and HCV (hepatitis C virus) drugs. The company spends about 23% of its total revenues on research and development, or R&D.Gilead Sciences has been actively involved in developing drugs in the oncology, pulmonology, and cardiology fields.

To protect its market share from generic erosion, the company has been actively researching HIV drugs based on another compound called tenofovir alafenamide, or TAF. However, these drugs are still in the FDA review process. If these drugs aren't approved or if patients don't switch to the new TAF-based drugs, Gilead Sciences may lose revenue. Additionally, drugs such as Tivicay and Triumeq from ViiV Healthcare, a joint venture between GlaxoSmithKline and Pfizer, have proven to be tough competition for Gilead's HIV portfolio.

Initially priced at more than $1,000 per pill per day, Gilead's HCV (hepatitis C virus) drugs, Sovaldi and Harvoni, proved to be major successes in the US market. However, competition from AbbVie's VIEKIRA PAK and Bristol-Myers Squibb's Daklinza has forced Gilead Sciences to offer price discounts of up to 46% to health insurers. Though the company has gained in patient volume, additional competition and subsequent pricing pressures can quickly erode Gilead's profitability. But do not forget that all the products have received a patent recently, which means that in the next at least 5 years, Gilead may not worry about their margins anyway.

3) Share repurchase program

Gilead went big recently with its decision to return cash to shareholders, as the company announced a massive $15 billion share buyback program. When added to the $3 billion that the company has remaining from a previous program, Gilead has more than $18 billion in firepower to bring down its share count. Gilead sports a huge $172 billion market cap at the moment, but if the company is successful in spending all $18 billion, then it has the potential to bring down its shares outstanding by more than 10% in the coming years.

4) Technical analysis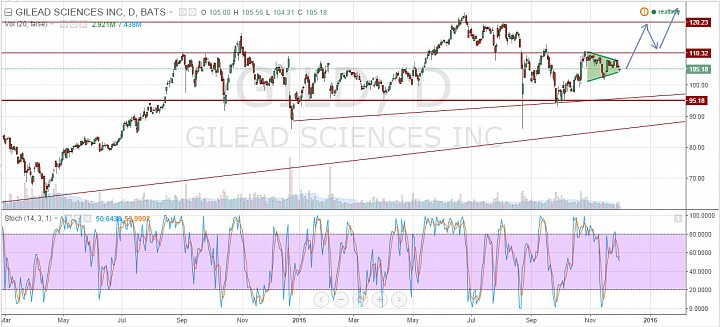 Gilead Sciences traded last year in the price range of 95 to 120, due to current financial performance, looks increasingly like a protracted konsolidatsiya. At the moment, we see a wedge, followed by decline in continuing, indicating the continuation of the upward movement. The most likely scenario seems breakdown resistance at $ 110, followed by consolidation and then a continuation of the upward movement.

5) Conclusion

I'm sure Gilead is one of the best opportunities in the market at the moment. Even if someone is not convinced the financial performance and prospects, the current policy of repurchasing shares - it's almost guaranteed 10% profit.

Recommendation: BUY. Short-term target price: $120. Long-term target price: $200.