Just when the talking-heads thought it was safe to proclaim small business is back, the data turns around and smashes them in the face. The headline NFIB Small Business Optimism index slipped to its lowest since June (the 4th month below the 7-year-high peak in May). More problematic was the sub-indices which saw plans-to-hire drop to six-month lows and wage-related series stalling out, capex spending plans plunge to 2-year lows, along with current job openings.
Hiring tumbles...
Capex plans collapse...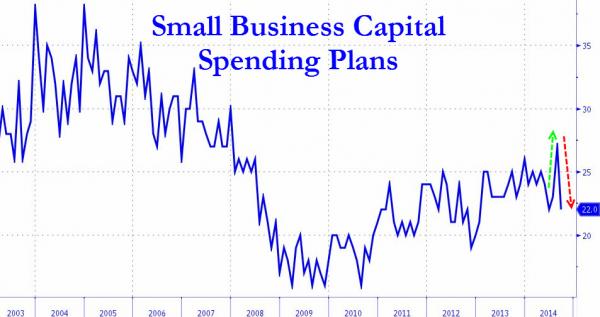 As Goldman adds, NFIB small business optimism edged down a bit more than expected in September.
KEY NUMBERS:
NFIB small business optimism 95.3 for September vs. median forecast 95.8
MAIN POINTS: NFIB small business optimism declined to 95.3 in September (vs. consensus 95.8), from 96.1 in August. By component, the largest declines occurred in plans to make capital outlays (-5pt to +22) and current job openings (-5pt to +21). However, the proportion of respondents describing now as a good time to expand their business rose to a new high for the recovery (+4pt to +13). Upward momentum in wage-related series stalled in September, as reported wage increases declined (-4pt to +18), while plans to raise wages remained unchanged at +15. Despite the September downtick in the headline index, small business optimism is not far from the post-recession high set in May.