This has been a good year for shares of Alibaba (BABA). Price came up from lows just below 60 to a high of almost 110. The daily chart shows this year-long uptrend, which reverses a previous downtrend in 2015. 

BABA Daily Chart 11/17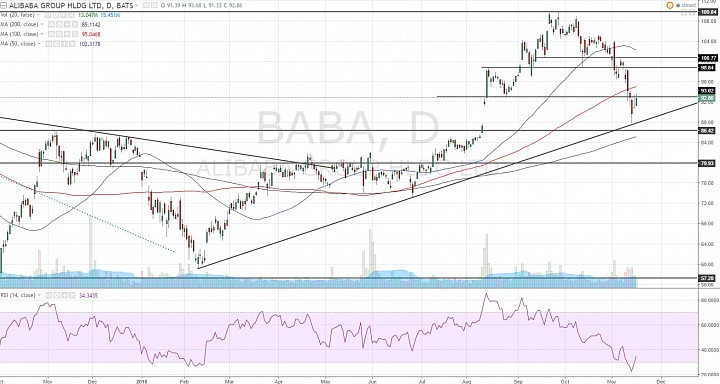 (click to enlarge)

Rising trendline:
- As we can see in the daily chart, price met  arising trendline when it dipped to 88. 
- So far this week, BABA is supported here at 88. 
- I would give BABA another swing down and elbow space to 86.50 and still consider the market bullish.

Waiting for more clues:
- The market can be very fickle and simply reverse sharply without leaving a clue.
- But, if price does indeed start to find support in this 86.50-88 area, we should gain confidence for a bullish continuation attempt.

Back to 100:
- The 100 area will be key when looking at this bullish scenario. If price is instead still in consolidation mode, the bullish continuation attempt might stop short at or below 100. 
- A break above 101 then likely reflects a bullish continuation with 109.80 to 110 in sight.