Almost one year ago, I wrote about the rumored merger between InBev (NYSE:BUD) and SABMiller. And here we find ourselves again, with InBev purposing a $104 billion bid merger with SABMiller, a bid SABMiller is rejecting for the time being.
A quick recap of the dynamics driving this merger talk: sales of cheap lager are slowing in the wealthiest economies as consumer preference gravitates toward premium substitutes, InBev and SABMiller have overlap in distribution and marketing, making for a complementary union, and cheap abundant debt at low interest rates provides the gusto for InBev to go out and pursue a mega deal. The SABMiller offer, along with InBev's other smaller acquisitions of craft brewers, provides an interesting glimpse into InBev's thinking at a crucial inflection point for the company. Two distinct paths are emerging for the world's largest brewer, as InBev attempts to reverse the looming, slowly creeping, trend of declining US and EU lager sales.
Path-1
Déjà vu: Exporting the American Beer Model
The SABMiller deal fits right into InBev's ethos of expanding through acquisition. Jorge Paulo Lemann, owner of 3G Capital and a sizable portion of InBev's stock, provides all the clues as to InBev's motivation for merging with SABMiller. Lemann, who gained notoriety by teaming up with Warren Buffett to buy a stake in Heinz and then merge with Kraft earlier this year, is a notorious cost-cutter; Lemann doesn't watch his investments passively appreciate so much as he squeezes every basis point out of them. The calculus behind the SABMiller deal is eerily similar to Kraft-Heinz; take a low-volatility product with slowly declining sales and cost cut your way to sizable, instantaneous gains.
SABMiller is a company ripe for cost-cutting with a glaring operational efficiency gap for InBev to exploit. For Lemann, the gap between Inbev and SABMiller's operating margins represents a large piece of fat ready to be carved up. If SAB operated at the same efficiency as InBev, there is potentially an additional $2-5 billion a year, in operating profits to be made. The benefits of a more internationally focused business (discussed further down) and the amount of debt that would be taken on also provides significant tax shield rationale for the purchase (InBev Pays a tax rate almost 10% lower than SABMiller already).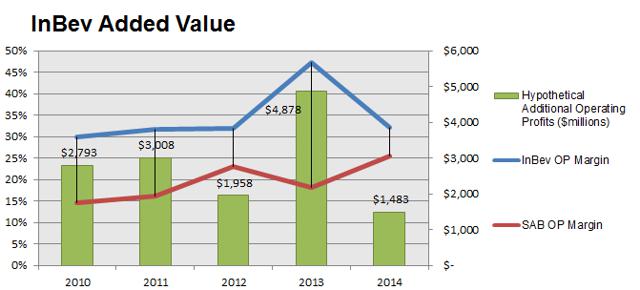 To make the deal a reality, SABMiller has to dispose of the Miller brand in order to assuage anti-trust concerns in the North American beer market. Given the pre-merger stock price of SABMiller, which neared 52-week lows prior to InBev's bid, due to flat sales growth in North America, a spin-off of North America Miller assets will have to be done at a very low multiple (given that the only thing holding up SABMiller's valuation pre-merger was strong margins and growth in its international units). InBev has to divest in the lucrative Chinese market as well - a combination with SABMiller's Snow would give it 37% market share in China. In light of these anti-trust facts, buying SABMiller looks much more like a deal to expand into international markets rather than consolidate power in the world's largest beer markets. A merger will shift the mature - emerging revenue split from around 51-49% to 40-60%, in the process giving InBev a solid entry point into the entire continent of Africa.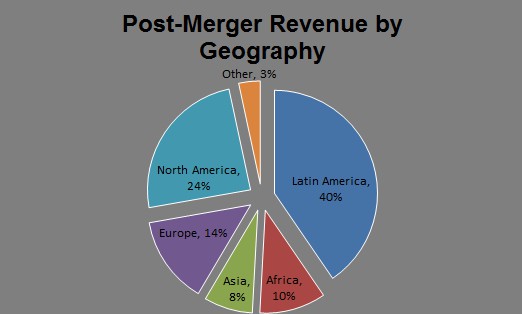 Data Sourced From InBev and SABMiller's Most Recent Annual Reports
The concern for InBev is that the divested units, China and USA, would probably be the easiest ones to merge and reap quick cost savings and enhanced supply-side leverage, which would maximize 3G's expertise as a cost-cutter. North America is where the biggest gap between InBev and SABMiller's efficiency is. Asia is the only geography where SABMiller outperforms InBev and, in addition, would add the highest volume of any geographical segment. These maps show how the merger is not strictly about consolidating power in overlapping markets. It is perhaps more accurate to say that InBev is looking to strike a more balanced view than 3G previously has; cutting costs while beginning to open up new growth markets to the products of old economies.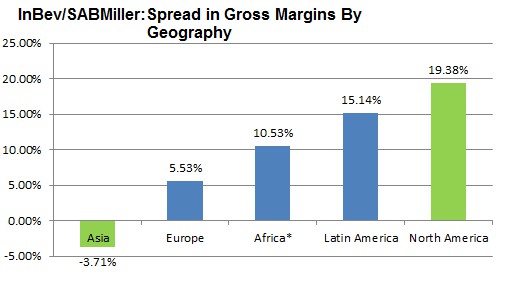 *Difference in Africa's margins is between SABMiller Africa segment margin and InBev overall company operating margin
Some analysts have rightly assessed that Budweiser is coming back to the table on this deal because SABMiller's stock price had fallen 11.5% YTD (to a market capitalization of roughly $73 billion) prior to the merger rumors. Over the same period, InBev shares only fell 5%: Budweiser's stock price being crucial because it will use it to finance part of the deal (while drafting this I was proved wrong as Bud offered all cash to the majority of shareholders). However...
More