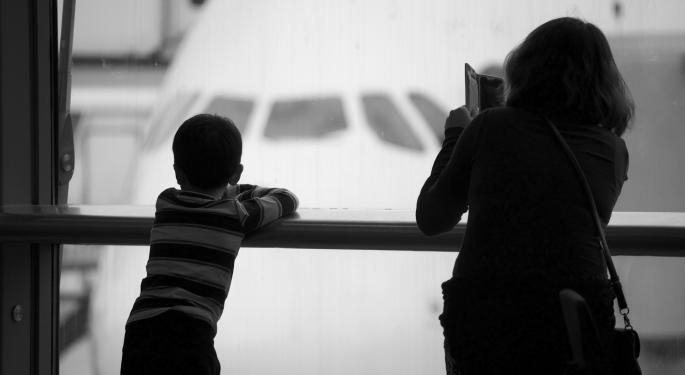 It is not etched in stone, but it often happens. That being airline stocks fall while oil prices rise and vice versa. Year-to-date, West Texas Intermediate futures, though weaker in recent months, have traded higher while the U.S. Global Jets ETF JETS 0.07% is down nearly 10 percent.
That does not mean JETS is grounded. Actually, to liberally apply the airline metaphors, the ETF could be ready for takeoff.
While the performance delivered by JETS to this point in the year isn't going to impress anyone, a case can be made that investors should be too hasty in departing the ETF and airline stocks. Not when oil prices are still well below their 2014 highs and certainly not a time when many of the 34 holdings in JETS are expected to post rising profits.
Flying High
"Net profit across the sector is likely to reach $39.4 billion in 2016, extending a record result set last year, when carriers generated collective proceeds of $35.3 billion, the International Air Transport Association said earlier this year at its annual gathering of airline chief executive officers, held this year in Dublin," according to Bloomberg.
The underlying index for JETS, the U.S. Global Jets Index, "uses a smart beta strategy to track the global airline industry. The index uses fundamental screens to determine the most efficient airline companies" according to US Global.
"Presently, we see a more than 81 percent weighting to Airline and Airline industry-related stocks in the U.S., followed by much lesser weightings to countries such as Canada (2.89 percent), China (2.09 percent), France (1.78 percent), United Kingdom (1.67 percent), Turkey (1.54 percent), and so on. 91 percent of the overall portfolio is invested directly in Airline stocks, with about 7 percent devoted to Aerospace and Defense names, and the remaining part of the portfolio broadly in the transportation sector," said Street One Financial Vice President Paul Weisbruch in a note Wednesday.
What's In JETS Luggage?
Still, JETS is largely a U.S. heavy as the four largest U.S. carriers combine for over 48 percent of the ETF's weight. The ETF is also, albeit slightly, levered to broader aerospace and defense trends, with a combined 6.2 percent weight to Boeing Co BA 0.23% and General Dynamics Corporation GD 0.26%.
"JETS has flatlined lately on lower than average trading volume, hovering above its 50 day MA for most of the month of August but still well off of its mid-April highs (when Crude Oil itself was slightly lower than today's levels)," added Weisbruch.
Do you have ideas for articles/interviews you'd like to see more of on Benzinga? Please email feedback@benzinga.com with your best article ideas. One person will be randomly selected to win a $20 Amazon gift card!
© 2016 Benzinga.com. Benzinga does not provide investment advice. All rights reserved.