The restaurant industry is notoriously challenging and competitive, however, it can also be enormously profitable for investors picking the right stocks from the menu. In case you are hungry for growth opportunities in the restaurant business, our contributors think names like Buffalo Wild Wings (NASDAQ:BWLD), Chipotle Mexican Grill (NYSE:CMG), and Domino's Pizza (NYSE:DPZ) offer especially appetizing growth prospects.
Steve Symington (Buffalo Wild Wings): You might love Buffalo Wild Wings for its sports-centric atmosphere, delicious wings, and as many as 30 beers on tap at any given location. But the sheer potential for the number of those locations to increase is enough to satisfy even the most ambitious growth-hungry investors.
Buffalo Wild Wings ended last quarter with 1,110 restaurants, and management has outlined a long-term goal of building a portfolio of diversified brands and operating at least 3,000 restaurants globally. That number includes around 1,700 Buffalo Wild Wings restaurants in North America alone over the next 10 years.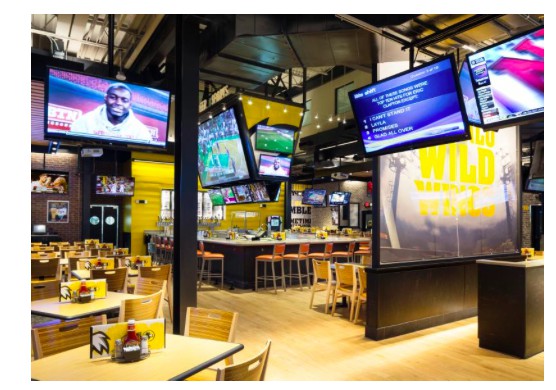 In addition, Buffalo Wild Wings has already acquired stakes in other small, complementary restaurants including street taco specialist Rusty Taco (recently rebranded as "R Taco") and "craft your own" pizza chain PizzaRev. What's more, Buffalo Wild Wings CEO Sally Smith has previously confirmed it has "probably looked at 200-plus" concepts so far, and intends to invest in as many as seven additional chains over the next five years. As a longtime shareholder myself, I'm more than happy to continue holding Buffalo Wild Wings stock as it steadily expands both its namesake concept and these up-and-coming chains.
Andres Cardenal (Chipotle Mexican Grill): Chipotle is clearly one of the most exciting growth stories in the restaurant industry over the last...
More