Apple reveals larger iPhones and smartwatch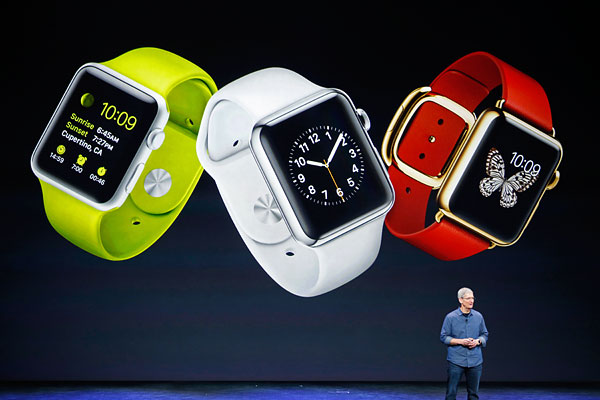 For the first time in years, Apple's iPhones weren't the star of the show. Apple unveiled a smartwatch on Tuesday, a wearable device that marks the company's first major entry in a new product category since the iPad's debut in 2010.
The move is significant because of recent questions about whether Apple still has a knack for innovating following the 2011 death of co-founder Steve Jobs.
The device's introduction upstaged the company's two new, larger iPhones, which won't just have bigger screens; they'll have a new, horizontal viewing mode to take advantage of the larger display.
The iPhone 6 will have a screen measuring 4.7 inches, while the iPhone 6 Plus will be 5.5 inches. In both cases, app developers will be able to design apps that can be viewed differently when the phone is held horizontally.
Apple also introduced a system for using the phone to make credit card payments at retail stores.
American recovery drives the dollar sharply higher

In the world of currencies, the dollar is starting to look like a safe home in a tough neighborhood.
A strengthening American economy, combined with a gloomy outlook for growth elsewhere, is pushing the U.S. currency sharply higher.
The dollar is up 6.4 percent against a group of major currencies since the start of May and has risen in three of the past four months. The U.S. currency climbed Tuesday to its highest level in six years against the Japanese yen, and it's trading at its highest level in 14 months against the euro.
A continued run-up could mean lower prices for imported cars and crude oil. On the other hand, it could also crimp profits for U.S. companies as their goods become pricier overseas.
Letting your car find a spot and park itself

With a thumb swipe on a smartphone, your car one day will be able to drive into a parking deck, find an open spot and back into a space — all by itself.
Technology being honed by French auto parts maker Valeo uses a dozen ultrasonic sound-wave sensors, 360-degree cameras and a laser scanner to safely park within a few centimeters of other vehicles. Then, when you're done with dinner or a business meeting, the car will return to you after another swipe of the thumb.
The potential benefits are plenty. More orderly parking means less congestion. Drivers are spared the time and frustration of the hunt for a spot. Parking lots can squeeze more vehicles into limited space.
Recall dilemma: What to do if parts aren't ready

Automakers have recalled more than 40 million cars and trucks in the U.S. so far this year, shattering the full-year record set in 2004, and many were for serious safety issues.
But often the first recall notices go out before parts are made, leaving car owners in a quandary: their cars have issues serious enough to cause a recall, yet they can't be fixed for months or even a year. The notices tell people to wait for another notice telling them parts are ready.
As Scots eye independence, rest of UK gets nervous

All Gavin Jones has to do is scan the shelves of his impossibly quaint shop on England's border with Scotland to know he'll have a big problem if the Scots declare independence next week.
Sorce: http://abcnews.go.com/