The hits just keep on coming.  
When we left off in June, our Top Trades had 70 winners out of 91 trade ideas but 5 of those trade ideas were for Lumber Liquidators (yes, I liked them that much) and they are all winners now so our winning percentage has jumped to 75 of 91 (82%) – not bad!  Of course, a few of the other losers have turned around too but LL was one I simply pounded the table on (which is why I picked them 5 times) so I will move those to the win column.  For the rest – wherever we are when we do our review (usually 2 or 3 months later) is where we mark it.  
Our June review took us to the end of April, for example, where we had 16 winners and only two losers but one of those losers was a Chevron (CVX) short, who subsequently took a nice dive and the other was SuperValue, which was a 2018 $3/5 bull call spread with short $5 puts and we bought 20 for $880 on March 3rd and, as of our June 5th review, they were $670, down $210 for our other loss of the period.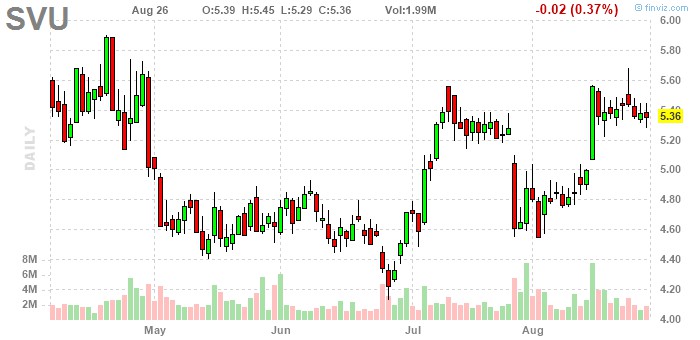 Now SVU is back at $5.36 and the spread is $1.25 and the short puts are $1 so net $25 x 20 contracts is $500 – still a loser (worse, actually) but what a great trade as all SVU has to do is hold $5 through Jan 2018 and the trade returns $4,000 – that would be a $3,500 gain from here (700%), so still great as a new trade!  
That's why it pays to read our Portfolio Review section over at Philstockworld – many hidden gems there – especially in our "losing" trades – rare though they may be!  That's because we're FUNDAMENTAL investors and, while the charts may go against us for some period of time, if we get the fundamentals right we know that, at some point, the market usually catches on to what we're seeing.  
Top Trades is a fairly new section at PSW, we began it last August so this is our one-year anniversary and we've put out over 100 Alerts, so averaging better than 2 per week.  We don't have a portfolio for our Top Trades as it would be redundant to our 4 Member Tracking Portfolios but many Top Trade Ideas are from trades we do officially add to our portfolios.  That's why we do these reviews once in a while – to check in and see if our logic is on or off track.  You can't make good future decisions without learning from your past ones – something we emphasize at PSW!   
Top Trade Alerts come from our Live Member Chat Room at Philstockworld and represent a very small portion of our trade ideas but they are a fair representation of applying our "Be the House – NOT the Gambler" strategy and you can learn a lot by reviewing the performance of these trades through up and down markets over the course of a year.  All PSW Basic and Premium Members have Top Trade Access (just make sure your smart phone number is in the box here if you want text alerts in addition to our EMail alerts). 
IN PROGRESS
Provided courtesy of Phil's Stock World.
Would you like to read up-to-date articles on the day they are posted? Click here to become a part of our growing community and learn how to stop gambling with your investments. We will teach you to BE THE HOUSE - Not the Gambler!