LendingClub (LC) is now down below $4 as the impact of the founding CEO resignation continues to roil the stock and the fintech sector. Other the last couple of days, the following issues have popped up:
Regulators including the Treasury Department called for more oversight of the online lending sector
Goldman and other institutions halted purchases of LC loans
LendingClub delayed filing the Q1 report
Wells Fargo (WFC) announced entry into online business loans
The amazing part is that the company highlighted potential self-dealing of the CEO, but the amounts had limited impact on the financials of the company and no business impact. The end result is that Bloomberg is now running articles where analysts compare LendingClub to specialty finance stocks like Synchrony Financial (SYF).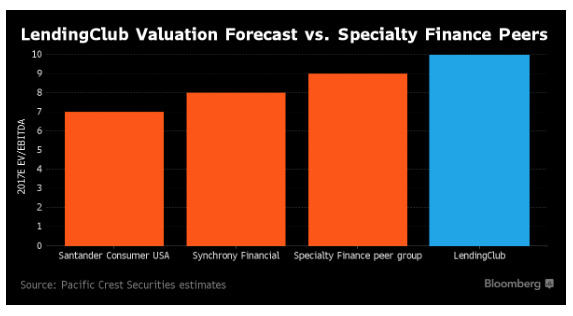 Remember that LendingClub is a platform for online loans that grew loan originations by 68% YoY during Q1. The company is nowhere near Synchrony making the comparison signs of peak negative news flow. Clearly, the business model is impacted in the short term, but nothing that has happened in the last few weeks changes the long-term business model of the platform. Don't get caught up in the hysteria and look for a turning point in the stock.  
Disclosure: No position