Banks stayed hot Tuesday, and Netflix, Inc. NFLX 19.54% delivered strong results as well, giving the stock market a positive tone as the day began. Looking at things from a sector perspective, financials, technology, and energy all have positive tailwinds this morning.
Earnings focus early Tuesday zoomed in on Goldman Sachs Group Inc GS 1.86% and NFLX (see below), both of which saw their shares rise in pre-market trading after easily beating Wall Street analysts' earnings expectations. NFLX really hit the ball out of the park with its results, and shares were up 20% in pre-market trading, helping lend positive energy. Johnson & Johnson JNJ 2.57%, another closely watched company, also beat earnings estimates.
So far, earnings season is getting a nice start, and 95 of the companies listed on the S&P 500 index (SPX) report this week.
GS continued the strong financial sector performance kicked off by some of its competitors last week, earning $4.88 a share in the third quarter and easily surpassing forecasts of $3.82. Trading revenue helped drive performance, rising 17% and in line with solid trading activity reported by some other big banks last week. Fixed income trading seems to be driving the increased trading activity across the sector, a reflection of rising market volatility last quarter in expectation of a possible Fed rate hike. GS stock rose 1.5% in premarket trading, and bank earnings aren't over yet. Tomorrow brings Morgan Stanley MS 1.53%.
JNJ posted earnings of $1.68 a share, beating Wall Street analysts' consensus estimates by 3 cents. The company also raised its outlook for earnings in 2016 to $6.68 to $6.73 a share from its prior guidance of $6.63 to $6.73 a share.
Though earnings may be center stage, don't forget the Fed. Yesterday's speech by Fed Vice Chair Stanley Fischer, who warned of the dangers of keeping interest rates too low for too long, did nothing to change already high expectations for a December rate hike. Chances for a hike that month are near 70%, according to CME Fed funds futures.
From a technical perspective, the S&P 500 index (SPX) closed below support at 2128 on Monday, the lowest close in over a month. However, the market barely fell under that, and today it looks like stocks may be rallying, so expect 2128 to continue to be a key support level.
Oil futures, which fell back below $50 a barrel on Monday, again traded above $50 early Tuesday after some analysts noted that inventory levels are building more slowly than usual for this time of year. Forecasts for a cold winter in North America that could lead to higher energy usage also may be giving oil and natural gas prices a boost. The stock market continues to take some direction from oil, so watch U.S. inventory data closely this week. Technical resistance for nearby U.S. oil futures is at $51.70.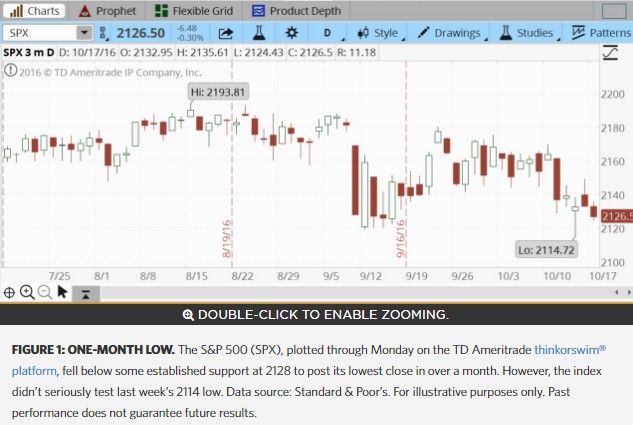 Netflix (NFLX) and International Business Machines Corp. IBM 3.19% were the two biggies Monday afternoon when it came to earnings, and both beat analysts' expectations. However, their stock prices went opposite ways. NFLX shares soared 20% in pre-market trading when the company reported better than expected results on revenue and earnings. Perhaps more importantly, NFLX added more new subscribers than its forecast, coming in at 370,000 new U.S. subscribers compared with its projection of 300,000. Overseas, NFLX did even better, adding 3.2 million subscribers. Is the success at NFLX a harbinger for earnings later this month from competitors like Amazon.com, Inc. AMZN 1.15% and Alphabet Inc NASDAQGOOGLE GOOG 2.56%? We'll find out in less than two weeks, when both of those companies report Oct. 27. IBM earnings beat estimates but the stock fell in pre-market trading. Worth noting is that the company's strategic imperatives revenue, which includes cloud revenue, rose 16% year over year. The company kept full-year guidance unchanged at $13.50 a share.
Earnings to Watch Later Tuesday/Early Wednesday: Much of Tuesday's major earnings action occurred before the open, leaving less excitement for after the close. One exception is chip maker Intel Corporation INTC 1.29%, which reports Tuesday afternoon, and analysts suggest that investors might want to pay attention to Intel's cloud-based business platforms. Additionally, Intel gave a mid-quarter guidance update noting some strength in what had been its flagging PC business. Consensus from Wall Street analysts is for earnings per share of 72 cents, up from 64 cents a year ago, according to Briefing.com. From an earnings standpoint, Wednesday morning offers more thrills, with reports due from companies including Abbott Laboratories ABT 1.26%, Morgan Stanley, and Halliburton Company HAL 1.36%.
Tired of Earnings Losses? This is the fifth-consecutive quarter in which S&P 500 (SPX) earnings are expected to decline, but it's also the last, according to S&P Global. In fact, next year could see strong annual earnings per share growth of 13.5%, though a large portion of that may come from the energy sector, which faces relatively easy comparisons to a year earlier. Even with energy removed, S&P Global predicts 6.9% earnings per share growth for S&P 500 stocks next year. So what does that mean for stocks? Sadly for anyone who stood on the sidelines during this long EPS trough, the best time to get in might have been a few quarters ago, if historic data hold true. History shows that investors who put their bets on the stock market after the second consecutive quarter of an earnings dip tended to have the best results, S&P Global said. Of course, past performance doesn't necessarily predict the future.
TD Ameritrade and all third parties mentioned are separate and unaffiliated companies, and are not responsible for each other's policies or services.
Inclusion of specific security names in this commentary does not constitute a recommendation from TD Ameritrade to buy, sell, or hold.
Market volatility, volume, and system availability may delay account access and trade executions.
Past performance of a security or strategy does not guarantee future results or success.
Options are not suitable for all investors as the special risks inherent to options trading may expose investors to potentially rapid and substantial losses. Options trading subject to TD Ameritrade review and approval. Please read Characteristics and Risks of Standardized Options before investing in options.
Supporting documentation for any claims, comparisons, statistics, or other technical data will be supplied upon request.
The information is not intended to be investment advice or construed as a recommendation or endorsement of any particular investment or investment strategy, and is for illustrative purposes only. Be sure to understand all risks involved with each strategy, including commission costs, before attempting to place any trade. Clients must consider all relevant risk factors, including their own personal financial situations, before trading.
TD Ameritrade, Inc., member FINRA/SIPC. TD Ameritrade is a trademark jointly owned by TD Ameritrade IP Company, Inc. and The Toronto-Dominion Bank. © 2016 TD Ameritrade IP Company, Inc. All rights reserved. Used with permission.
© 2016 Benzinga.com. Benzinga does not provide investment advice. All rights reserved.