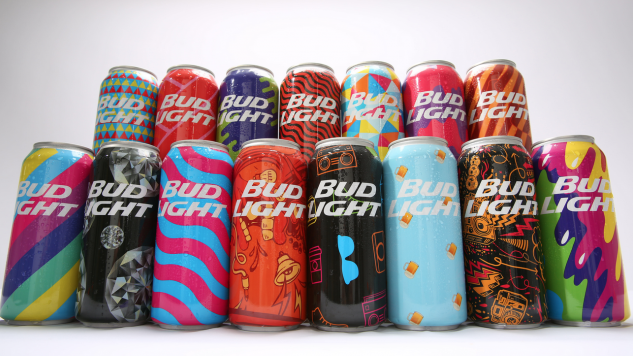 Get ready for some changes to the beloved beverage, Bud Light.
Bud Light (NYSE: BUD) has teamed up with HP to procure a more creative and individualized approach to their beers, particularly targeting millennials. According to AdWeek, more than 200,000 different designs on Bud Light cans will be available at the Mad Decent Block Party, a music festival touring around the United States.
"The [individualized cans are] very much in line with what Bud Light wants to do for millennials," said Alex Lambrecht, vp of Bud Light, according to AdWeek. "We know they want something unique and an unexpected experience, and I feel that they will be so surprised and inspired when they order a Bud Light and get these cans."
Wording hand-in-hand with HP vertical printing, Bud Light was able to create the multitude of designs using a specific algorithm. Originally, a handful of representatives from the Mad Decent team and about 30 independent artists came up with the base designs; the computer then tweaks them for each can, creating the individualized designs.
According to representatives from Bud Light, the cans are exclusively available at the Mad Decent festival, and are intended to create a unique experience for every festivalgoer, AdWeek reported.
"That's where the packaging came in," Gina Bazigian, packaging innovations manager at A-B InBev, said. "So, we partnered with HP. Instead of printing these cans through conventional printing, we leveraged their HP Indigo digital-press technology, and what makes that significant is that we also used their HP SmartStream Mosaic algorithm." 
While I doubt these cans, specifically, will determine whether or not mostly-millennial attendees have the kind of unique experience that is marketed toward the demographic. Musical festivals of this sort are essentially a giant sensory overload, and while Bud Light cans may provide a nice visual for an Instagram (NASDAQ: FB) picture, they most likely be a piece of a much larger puzzle, at least in the music festival world. 
For more business and financial news, click here.
*This is editorial content and expresses the opinion of the author.