Those looking for accurate data regarding the US economy should look into credit card applications and credit card company earnings.
Regarding the former, consider the recent rejections of credit applications data:

Here we see a data point not experienced since the "credit crunch" era of 2008-2009: a time in which the economy was imploding and most people thought the world was ending.
This data point is not unique.
Consider Capital One's (COF) recent earnings disaster.
COF gets more than HALF of its revenues from credit cards. Because of this, it is VERY sensitive to consumer spending habits and economic growth. With that in mind, COF recently posted a MASSIVE miss on earnings because it decided to increase its provisions for credit card losses.
Capital One Financial Corp., the bank that gets more than half of its revenue from credit cards, reported profit that missed analysts' estimates as the lender set aside $1.1 billion to cover credit losses.
http://www.bloomberg.com/news/articles/2015-07-23/capital-one-s-profit-misses-estimates-on-credit-loss-provisions
This represents a 60% increase in provisions for credit card losses. COF would only do this if it expects a MASSIVE spike in credit card delinquencies (meaning consumers are so broke they cannot make credit card payments anymore.
COF shares fell over 15% on the news.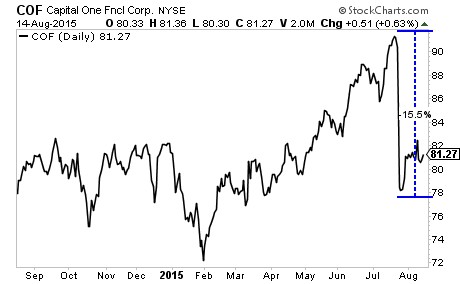 In simple terms, COF chose to severely disappoint Wall Street (and suffer a collapse in its share prices) because of what it sees coming down the pike. Anyone who has worked for a publicly traded company can tell you that C-level executives would only miss expectations for earnings if they had absolutely NO other choice.
With 70% of the US economy driven by consumer spending, particularly via credit spending, both of these data points indicate that a sharp economic contraction has begun. The official GDP numbers do not reflect this because they are too politically important to do so. But the hard data shows something nasty is coming down the pike.
And stocks are pricing economic perfection. This has the makings of a real market collapse. A new crisis is approaching. Smart investors are preparing now, BEFORE it hits.
If you've yet to take action to prepare for this, we offer a FREE investment report called the Financial Crisis "Round Two" Survival Guide that outlines simple, easy to follow strategies you can use to not only protect your portfolio from it, but actually produce profits.
We made 1,000 copies available for FREE the general public.
As we write this, there are less than 15 left.
To pick up yours, swing by….
http://www.phoenixcapitalmarketing.com/roundtwo.html
Best Regards
Phoenix Capital Research
Our FREE e-letter: www.gainspainscapital.com