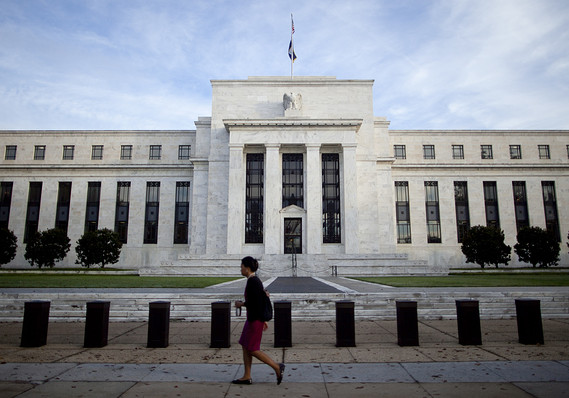 The Federal Reserve is in no hurry to raise rates.

The Federal Reserve will go out of its way this week to send soothing signals to investors already unnerved by recent market volatility and worries about the global economy.
There are no press conferences or updated economic forecasts after the U.S. central bank's two-day meeting Tuesday and Wednesday and markets will be left to look for signals from the Fed's policy statement, which will be released at 2 p.m. after the talks conclude.
In the statement, the Fed is likely to announce that it will stay the course and end its third round of bond buying, otherwise known as QE3, economists say. For months, the Fed has been signalling its intention to end the program at this meeting.
As a result, November will be the first month in 37 months that the Fed will not be buying longer-term securities, said Michael Gregory, deputy chief economist at BMO Capital Markets.
The Fed has purchased $1.6 trillion in Treasurys and mortgage-backed securities since September 2012, said Michael Gapen, economist with Barclays.
The U.S. central bank is also expected to keep intact its forward guidance that the Fed will wait a "considerable time" before hiking short-term rates.
"The Fed has little appetite for minor tweaking of language," Gregory said.
Minutes of the Fed's previous meeting in September revealed the central bank was worried about being misinterpreted by financial markets if it changed its guidance.
This result, if it occurs, "should feel dovish" as the Fed "leans against the potential fallout from the current global growth slowdown and disinflationary impulse," said Millan Mulraine, economist at TD Securities.
The Fed's main message to the market is that the central bank will not tolerate persistent low inflation expectations reflected in recent bond market trading, said Paul Edelstein, director of U.S. financial economics at IHS Global Insight.
Inflation is being pushed lower by the stronger dollar, slowing global growth and lower oil prices, Gregory of BMO said.
Market-implied inflation forecasts have taken a nose-dive since the summer, based on the so-called breakeven rates, or the difference between 5-year Treasury note yields and 5-year Treasury inflation-protected security yields.
Markets now expect inflation to average 1.5% over the next five years, down from 2% in September.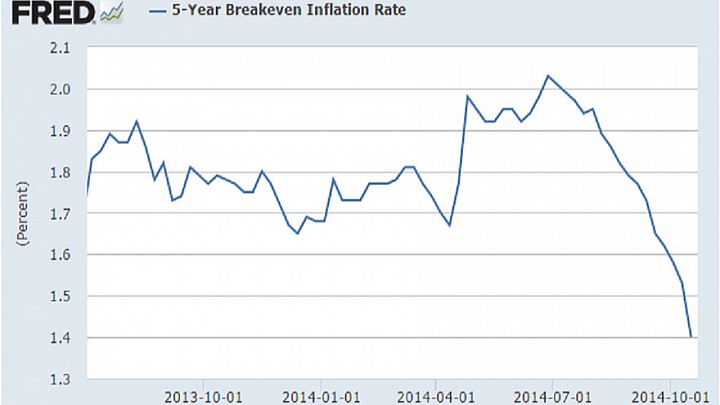 Edelstein said.the Fed is likely to say in its policy statement that it will take more action if inflation stays below 2%. Other economists were less sure, but said it might be included.
The Fed hope that words alone will snap the market out of its gloomy view on inflation, Edelstein added.
"The wording will be sufficiently vague, keeping the window open to doing anything they want," he said.
As a result, there will be no explicit promises of QE4.
"OE4 is not even in dry dock, let alone being prepared to set sail," said Michael Hanson, U.S. economist at Bank of America Merrill Lynch.
Although St. Louis Fed President James Bullard garnered headlines when he suggested the Fed could extend its bond purchase program to December, Fed watchers don't think he has much support on the Fed's policy committee.
"We expect the Fed to stay the course on tapering, completing the QE3 asset purchase program in October," Mulraine said.
The stock market is likely to "react positively" to the statement, Edelstein said.
Bond yields are likely to fall initially, but then inch higher in the days after the meeting, he said.
If the Fed can convince markets that it is sufficiently concerned about inflation, then a mid-2015 rate hike remains on the table, Edelstein added.
Greg Robb