Moments ago, the company that traditionally kicks off earnings season did just that, and sent the ball into a throw in. The reason: just like all the other companies that have reported and pre-reported so far in the third quarter, its results were a huge miss: AA reported non-GAAP EPS of $0.07 missing expectations of $0.13, on revenues of $5.57 billion, a 10% drop Y/Y, also missing top-line estimates of $5.75.
And while the company did have some justifications for the collapse, blaming what else but China...
In China, Alcoa lowered its estimate for 2015 automotive production growth to up 1 to 2 percent, from up 5 to 8 percent; reduced its projection for 2015 heavy duty truck and trailer production growth to down 22 to 24 percent, from down 14 to 16 percent; reduced its 2015 commercial building and construction sales growth to up 4 to 6 percent from up 6 to 8 percent; and kept its 2015 packaging estimate unchanged at up 8 to 12 percent.
... the real culprit is none of that. Because, as regular readers know very well, with Alcoa it is all about the Non-GAAP addbacks.... and the problem here is that while in previous quarters Alcoa's "restructuring" charges were vast, usually eclipsing the actual GAAP earnings number, in Q3 they tumbled to "only" $66 million - the lowest since March 2013.
They are shown as follows: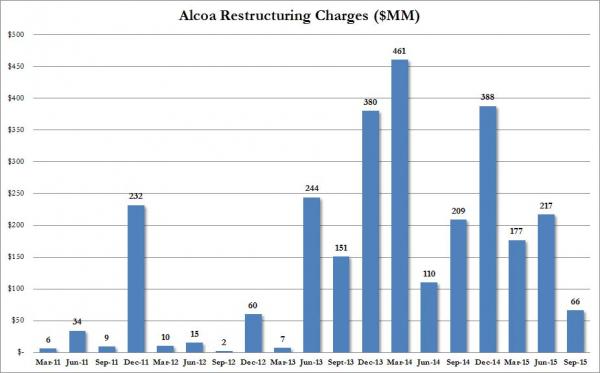 Because that $0.07 EPS, that was non-GAAP. On a GAAP basis, Alcoa generated a paltry $44 million in Net Income, down 70% from a year ago, which translates into 2 cents per share.
And just to show what Alcoa's true EPS picture looks like, now that its restructuring charge "addbacks" are finally grinding to a halt, in the past year, GAAP Net Income was just $538 million. What about non-GAAP net income: more than double that or $1.154 billion. And that's why, as Alcoa's Non-GAAP myth is about to collapse into the company's GAAP reality, its P/E is about to double... just as the company's topline is tumbling.