Analyst Irina Rivkind Koffler of Mizuho Securities weighed in on Teva Pharmaceutical Industries Ltd (ADR) (NYSE:TEVA) yesterday after negative safety updates regarding trials of drug laquinimod, used to treat MS. Yesterday, Teva announced that it would discontinue its higher 1.2 mg doses of laquinimoid after both its Phase III CONCERTO and ARPEGGIO trials resulted in a combined 8 heart problems for patients. As a result, Koffler believes "the risk to the program has slightly increased." The analyst states she is surprised regarding the negative results as company management stated the drug was safe in over 10,000 patients in previous uses, though she notes a 0.6 mg dose. Despite the safety hiccup, the company indicated that they will continue trials of the 0.6 mg doses.
The analyst believes that Teva increased the dose in order for the trials to result in higher efficacy, and that the discontinuation of this higher dose "raises clinical efficacy risk to some extent." Although the analyst is "more cautious on this compound," she is keeping her revenue estimates for the drug's 2020 levels $558 million. She notes that her expectations surpass those of the Street and attributes this to the "relatively muted" stock reaction.
In addition to her bullishness regarding laquinimod, the analyst also expresses positive sentiment on the Allergan Generics deal, set to close in 1Q:16. At the end of July, Teva announced it would be acquiring Allergan, the maker of Botox, for $40.5 billion. Related, Koffler anticipates management's 2016 guidance, believing "there is additional upside to our estimates with regard to lower interest expenses." Generally, the analyst believes "Teva is a stable business with strong growth prospects" despite a rocky start to the New Year. Koffler reiterates her Buy rating on Teva with a $79 price target, marking a 20% potential upside from current levels.
Irina Rivkind Koffler is ranked #3 out of 3,706 analysts on TipRanks. She has a 73% success rate recommending stocks with an average return of 45% per recommendation.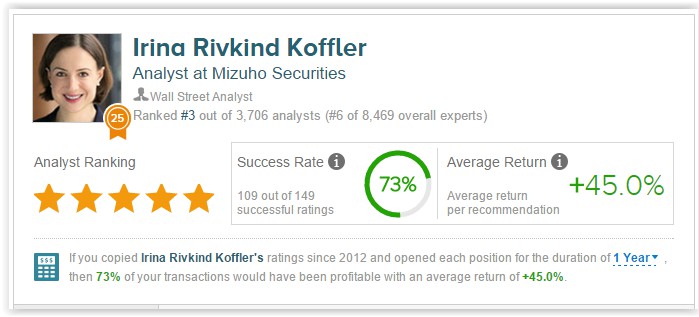 Out of the 6 analysts polled by TipRanks who have rated Teva in the past 3 months, 4 gave a Buy rating while 2 remain on the sidelines. The average 12-month price target for the stock is $76.00, marking a 16% upside from where shares last closed.