Presentato al CES 2015, Ulefone Be phablet Pro è uno schermo IPS HD da 5,5 pollici, SoC MTK6732 64-bit, 2 GB di RAM e il chip 4G-LTE, pronto a ricevere Android 5.0 Lollipop prossimo febbraio. Preorder in offerta per circa 130 euro!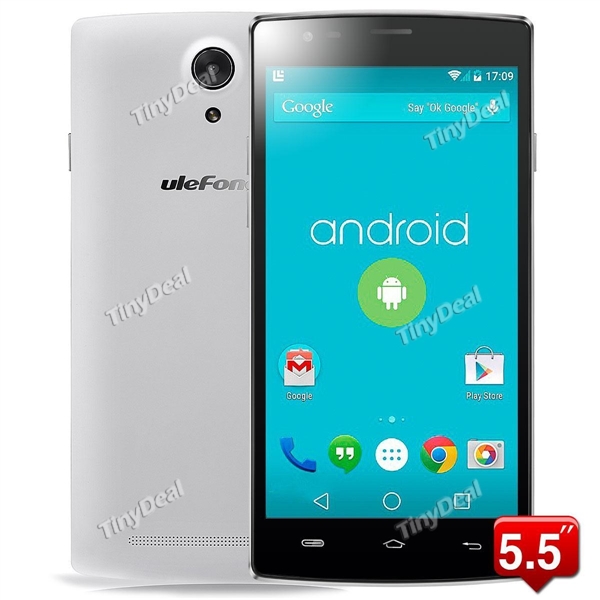 TinyDeal in questi mesi si sta dimostrando di essere una fonte di opportunità per i consumatori golosi attenti, sempre pronti a saltare a destra opportunità di acquisire i dispositivi di generazione ad un prezzo accessibile. Il negozio in questi giorni è infatti proporre una nuova iniziativa su 'Ulefone Be Pro. Lo smartphone, che è ancora in pre-ordine al costo di 169,99 dollari, può infatti essere acquistato al prezzo di soli 156,99 dollari se si inserisce il codice coupon "ulefoneML" durante il processo di acquisto.
Sappiamo già smartphone Ulefone Be Pro per l'ottimo rapporto qualità o di prezzo e al CES 2015 abbiamo avuto modo di provare dal vivo il loro nuovo phablet e smartphone con LTE SoC 64bit pronto per Android 5.0 Lollipop. Tra loro c'era il Ulefone Be Pro che pubblicano alcuni colpi vivi che mostra un ben progettato, attraente e diversa dal solito, grazie alla finitura opaca della copertura.
Il dispositivo, che ha anche le strutture laterali molto sottile, ha dimensioni non registrare, misura 56,5 x 77,8 x 10,2 mm e pesa 166 g, ma è gestibile dato anche la diagonale del display IPS, pari a 5,5 pollici. La risoluzione dello schermo è 1280 x 720 pixel invece di. La componente tecnica forse più notevole dell'Ulefone be Pro cellulari 64 bit, invece, è il SoC MediaTek MTK6732, formato da un processore quad-core ARM Cortex A53 a 64 bit con una frequenza di clock di 1,5 GHz e una GPU ARM Mali T760 695 MHz.
Per supportare il SoC sono poi 2 GB di RAM e 16 GB di memoria interna, espandibile tramite schede microSD con una capacità massima di 64 GB. La scheda tecnica ci dice poi che c'è ancora uno slot Dual SIM Dual Standby, i moduli GSM, 4G, GPS, Wi-Fi e Bluetooth, fotocamera posteriore 13 megapixel, 8 megapixel batteria 2600 mAh webcam anteriore e. Al momento il sistema operativo è Google Android 4.4 KitKat, ma nel mese di febbraio verrà rilasciato l'aggiornamento alla release 5.0 Lollipop.