About company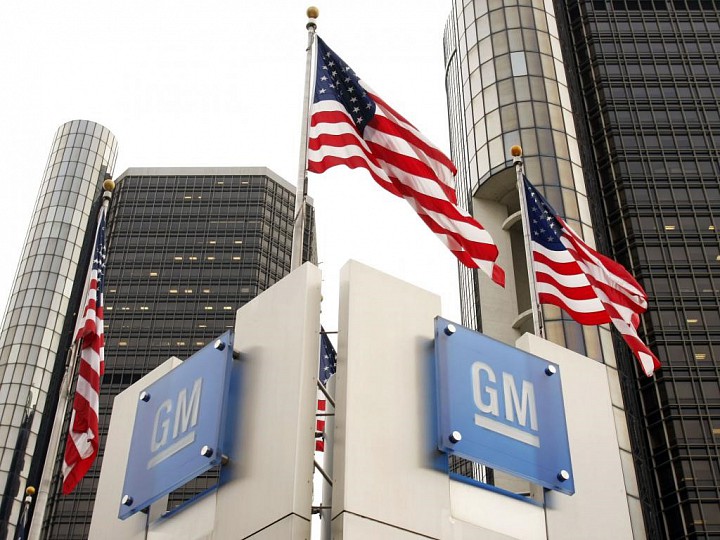 General Motors Company (GM) is an American multinational corporation that designs, manufactures, distributes vehicles and vehicles parts and sells financial services. The current company, General Motors Company LLC, ("new GM"), was founded in 2009, after the bankruptcy of the General Motors Corporation ("old GM"). On Forbes List GM is 64 Global 2000.

General Motors produces vehicles in 37 countries under thirteen brands: Alpheon, Chevrolet, Buick, GMC, Cadillac, Holden, HSV, Opel, Vauxhall, Wuling, Baojun, Jie Fang, UzDaewoo. 
Financial situation
American concern General Motors reported results for the third quarter. Car giant earned $ 3.1 billion, despite strong leaps in exchange rates and sales decline in China. Earnings per share were $ 1.50 versus $ 1.19 in the forecast. The company states that the majority of cars were sold in North America, and the decrease of China sales was insignificant.
After the news publication company's shares price increased by 1.94 points or 5.79%, this is the best growth since 2012.
According to Capitalcube
GM-US's change in revenue for this quarter compared to the same quarter of the last year is -1.05%. It is almost the same as its change in earnings and is about average among the announced results thus far in its peer group, suggesting that GM-US is holding onto its market share. In addition, for comparison purposes, revenues changed by 1.74% and earnings by 21.67% in comparison with the last quarter.
This year good news for the company was the reduction abolition of almost a thousand of workers at a factory in Brazil.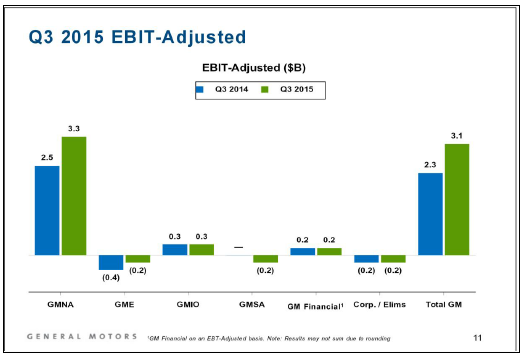 According to General Motors Co
General Motors normally pays dividends in the end of March, June, September and December. So for those who want to take profit from securities, you should buy shares as close as possible to the end of the year as share price will grow in the moment of paying dividends.
We also can see that since 2015 began, GM started to pay dividends at a higher rate. It is a good factor, which defines the activity of the company.
Historical Dividends – GM Common Stock, $0.01 par value

Source: made by TRADEintime (based on data from General Motors Co)
Valuation

Source: made by TRADEintime (based on data from Morningstar)
The company were currently trading at the same level as Industrial Average P/E, and P/B. Moreover, we can mention that P/S is nearly similar too. This means that General Motors Company occupies a large part of the automotive market.
We observe that Price/Cash Flow is much more higher than Industrial average, almost 4.5 times! On the one hand, higher ratio may suggest potential overvaluation, but, on the other hand, company may only be marginally profitable, investors will be willing to give it a higher valuation because of its growth prospects.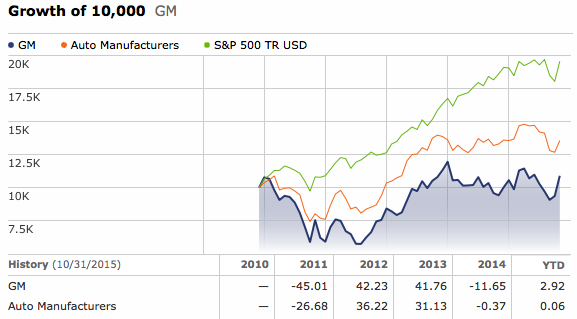 Source: Morningstar
A graph that shows the change in value of an initial $10,000 investment over a period of time. The "growth of 10,000" chart is typically used to compare the returns from various investments, either against each other or against an underlying benchmark. The returns shown in such a chart include reinvestment of dividends and capital gains, but exclude fees and sales charges.
Technical Analysis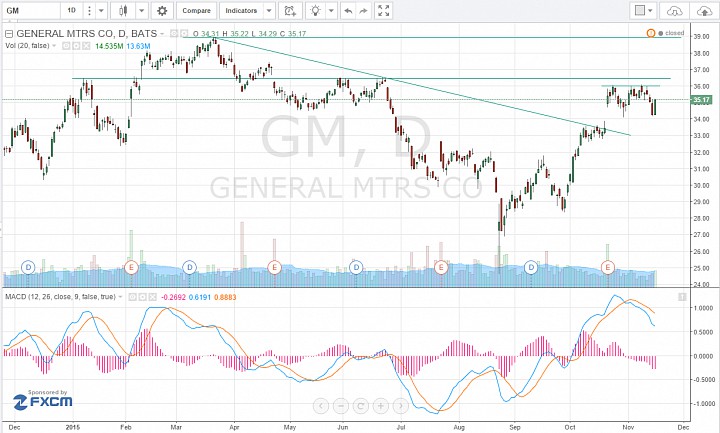 Source: made by TRADEintime (based on tradingview)
The classical analysis of the lines of support and resistance reveals that the top point of resistance have not been able to pass yet.
We can see that there was a gap on 21of October. This was due to the release of statistics of earnings. Estimate $1.17 but in reality it turned out $1.50. That is why the market went up, although not for a long time.
In October there was a penetration of strong level of $32, and then after the release of statistics of earnings, there was a gap and raising the GM share prices to almost $36, but MACD shows more weak force in contrast with October, that is why the prices didn't come down to $36.5 where there is a strong resistance level. It indicates divergence. So, in the coming 2-3 months, we expect the decline in stock prices to about $33.
Our recommendations
1. For the short-term investment (near future), we suggest to hold shares.
2. For the medium-term investment (a few months), we suggest to sell the shares.
3. For long-term investment (5 years) is also recommended to buy shares.