On Tuesday, August 1st, Apple (AAPL) will release its third quarter earnings results after the bell. The company is a Zacks Rank 3 (Hold), and has a Value, Growth, and Momentum score of C.
Dave will look at Apple past earnings, take a look at what is currently going on with the company, and give us his thoughts on their upcoming earnings announcement.
Furthermore, Dave will uncover some potential options trades for investors looking to make a play on Apple ahead of earnings.
Apple in Focus
Apple Inc. is engaged in designing, manufacturing and marketing mobile communication and media devices, personal computers, and portable digital music players. The Company's products and services include iPhone, iPad, Mac, iPod, Apple TV, a portfolio of consumer and professional software applications, the iOS and Mac OS X operating systems, iCloud, and a range of accessory, service and support offerings. It sells its products worldwide through its online stores, its retail stores, its direct sales force, third-party wholesalers, and resellers. Apple Inc. is headquartered in Cupertino, California.
Apple is expected to report earnings at $1.57 per share. Apple reported earnings last quarter at $2.10 per share, beating the Zacks Consensus Estimate by $0.08 last quarter. Apple has an average surprise of 2.77% over the last 4 quarters.
Apple Inc. Price, Consensus and EPS Surprise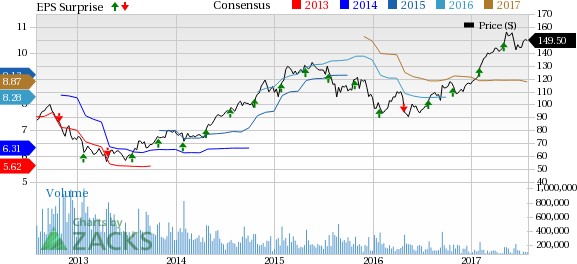 Apple Inc. Price, Consensus and EPS Surprise | Apple Inc. Quote
Bottom Line
How should investors play Apple ahead of their earnings report? For insights on the best options trades, then tune in at 11:00am CST today to see David's thoughts.
More Stock News: 8 Companies Verge on Apple-Like Run
Did you miss Apple's 9X stock explosion after they launched their iPhone in 2007? Now 2017 looks to be a pivotal year to get in on another emerging technology expected to rock the market. Demand could soar from almost nothing to $42 billion by 2025. Reports suggest it could save 10 million lives per decade which could in turn save $200 billion in U.S. healthcare costs.
A bonus Zacks Special Report names this breakthrough and the 8 best stocks to exploit it. Like Apple in 2007, these companies are already strong and coiling for potential mega-gains.
Click to see them right now >>
Want the latest recommendations from Zacks Investment Research? Today, you can download 7 Best Stocks for the Next 30 Days.
Click to get this free report
Apple Inc. (AAPL): Free Stock Analysis Report
To read this article on Zacks.com click here.
Zacks Investment Research