The massive fire sweeping through the Canadian oil sands hub of Fort McMurray, Alberta, has roiled energy markets and produced apocalyptic images for television news.
The disaster also serves as a reminder that the world still needs safer, cleaner and more efficient alternatives to fossil fuels.
For the best investment play on renewable energy, look to Canada.
Canadian Solar (CSIQ - Get Report) , a major producer of solar wafers, cells, and integrated power systems, is one of the most reliable growth investments in this turbulent broader market. And its shares are dirt cheap, to boot.
The company is scheduled to report first-quarter earnings on Wednesday. The stock is a strong buy ahead of operating results.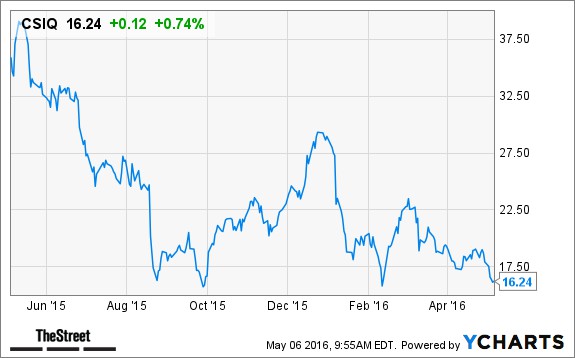 The average analyst estimate for Canadian Solar is earnings of 14 cents a share, compared with $1.04 a share a year earlier. That seems like a disappointing number, but the company's far-sighted investments in technology and productive capacity will bear fruit in future quarters.
For the current second quarter, Canadian Solar is expected to post earnings of 33 cents a share, compared with 31 cents a year earlier.
For full-year 2016, the company is projected to report earnings of $1.91 a share, compared with $2.93 in 2015. Earnings are forecast at $2.70 a share for next year.
The solar industry is brimming with promise, as well as peril. The highest-profile casualty has been debt-ridden SunEdison, which declared Chapter 11 bankruptcy on April 21, wiping out nearly $10 billion in market value.
Canadian Solar has outlasted its peers by focusing on the value-added aspects of the solar supply chain, such as systems integration and solar modules.
The production of photovoltaic cells and...
More