Saw this piece locally. I love it!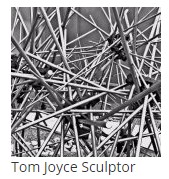 The sculptor explores iron as a profoundly symbolic material.
He believes that iron's "regenerative matter, aesthetic malleability and cultural meaning resonate…"
The name of the piece is "Everything at Hand." Much the same can be said for the market.
If iron is symbolic of regeneration and aesthetic malleability, then certainly, the market is made of iron.
And given that the Dow barely budged after Trump's North Korea statements, this market remains equipped to take "everything at hand."
Tillerson tried to walk back the severity of Trump's threats, which helped.
Nevertheless, divorcing ourselves from current events and looking solely at the technical price patterns, what resonates?
For starters, the Russell 2000 (IWM) cleared the top of the monthly channel in July but did not wind up closing above it.
This month, IWM has fallen further from the top of the channel resistance and is in a Warning Phase. Big eyes here.
Semiconductors (SMH), which has been the strongest...
More