Business services provider Cintas CorporationCTAS recorded strong fourth-quarter fiscal 2017 (ended May 31, 2017) results on the back of healthy top-line growth. Net income from continuing operations for the reported quarter was $82.2 million or 75 cents per share compared with $115.7 million or $1.06 per share in the year-earlier quarter. Adjusted earnings for the reported quarter beat the Zacks Consensus Estimate by 10 cents.
Cintas Corporation Price, Consensus and EPS Surprise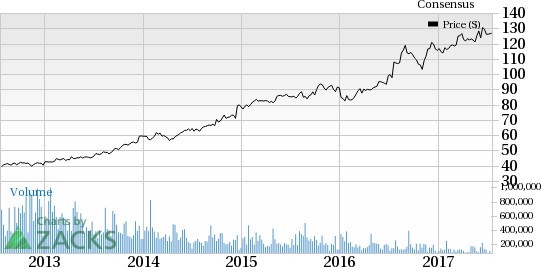 Quarterly revenues increased 23.1% year over year to $1,530.3 million, exceeding the Zacks Consensus Estimate of $1,509 million. Organic growth for the reported quarter improved 8.1% year over year. The superior top-line performance was primarily attributable to the addition of new customers, strong customer retention and higher penetration of existing customers through better and innovative products and services.
For fiscal 2017, net income and earnings per share (EPS) from continuing operations were $457.3 million and $4.17, respectively, compared with $448.6 million and $4.02 last fiscal year. The company reported adjusted earnings of $4.53 per share. Revenues for the year were $5,323.4 million compared with $4,795.8 million in the prior-year period. The increase was driven by an organic growth rate of 6.7%.
Gross margin increased for the 15th consecutive quarter on a year-over-year basis to 44.4% from 43.9% in the prior-year quarter. Operating income was $ 177.3 million, down 11.2% year over year. Operating margin was 11.6%, lower than 16.1% in the year-earlier quarter, owing to expenses related to the acquisition of G&K Services...
More