AUD/CAD has been bullish in 2014. Let's take a step back to price action since April 2013.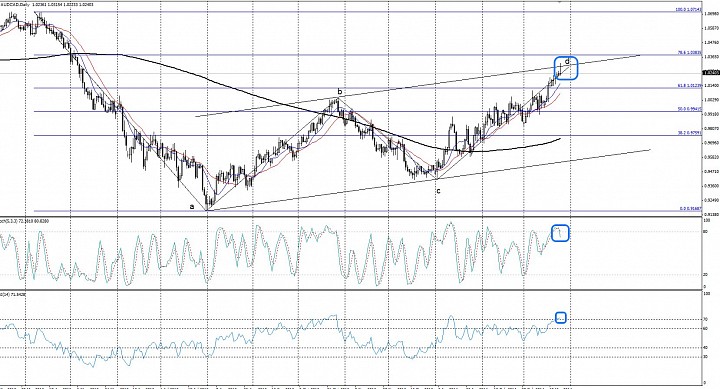 (AUD/CAD Daily Chart)
The daily chart shows a downswing from 1.0714 to 0.9168 before it started to rally. 
Since the 0.9168 low, we observe 2 major upswings ab, and cd connected by a downswing bc. 
These swings "abcd" reflect a completed harmonic retracement pattern where ab = cd and the waves end up in a key fibonacci retracement area (61.8%-78.6%).
Also note that as AUD/CAD tags 1.03, it is tagging a projected channel resistance.
The combination of these technical conditions suggest resistance around 1.03 at least in the short-term. 
However, to consider a bearish outlook when the market remains bullish, a validation of resistance from price action will be needed ie. a bearish engulfing pattern in the daily chart. Maybe we can get some clues in the 1H chart as well.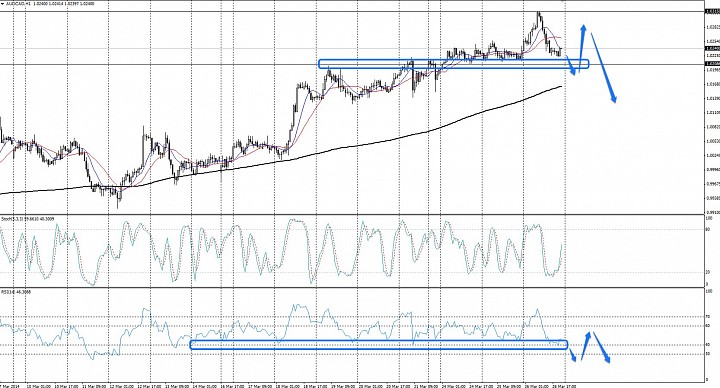 (AUD/CAD 1H Chart)
If the 1H chart shows the RSI dipping below 30, we should have some near-term validation of resistance from the 1.03/1.0315 area. Also if price should fall below 1.02, the market would see a near-term top.Then, if a subsequent pullback fails to push the 1H RSI above 60, and price remains below the 1.03/1.0315 area, the case for a bearish outlook strengthens.