Amazon.com, Inc.'s AMZN cloud computing wing Amazon Web Services (AWS) is reportedly in talks with VMware VMW to develop software for corporate data centers.
The duo already has a partnership since October to develop an integrated hybrid cloud solution that functions like a software-defined data center (SDDC). Set to be launched in 2017, it will enable users to run VMware software (vSphere, Virtual SAN and NSX) on the Amazon cloud apart from the internal servers.
The speculated deal could be an expansion of this partnership. Per The Information, the new software could ease migration of applications between datacenters and Amazon's server farms. Recovery of data from Amazon in case of disasters will also be easy.
The news report also added that if the deal materializes, it will be the first large-scale endeavor on AWS' part to build software for corporate data centers.
Cloud has been a strong driving force for Amazon's growth. Notably, the company has outperformed the S&P 500 on a year-to-date basis. While the stock returned 34.7%, the index gained 10% over the same period.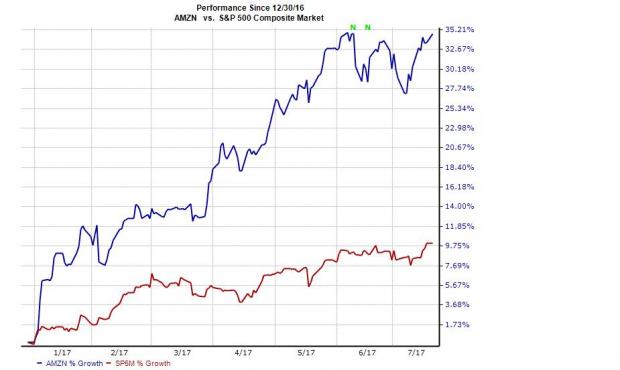 Growth Opportunity in the Cloud Market
Per Gartner, the worldwide public cloud services market is anticipated to increase 18% in 2017 to $246.8 billion, up from $209.2 billion in 2016. Cloud system infrastructure-as-a-service (IaaS) is projected to grow 36.8% in 2017 to $34.6 billion. Cloud application software-as-a-service (SaaS) is expected to grow 20.1% to $46.3 billion.
How are Amazon and VMware Placed?
We note that both Amazon and VMware are well positioned to take advantage of the projected growth in the cloud segment.
Amazon.com, Inc. Revenue (TTM)
As far as Amazon is concerned, its AWS needs no introduction. It is currently the cash cow for Amazon and generates much stronger margins than the traditional retail business. The segment was up 3.5% sequentially and a massive 42.7% year over year with revenue share at nearly 10% in the first quarter of 2017.
Through AWS, Amazon enjoys a dominant position in the public cloud market. According to Synergy Research Group, AWS had a massive 40% share of this space as of fourth quarter of 2016. Microsoft MSFT, Alphabet's GOOGL Google and IBM together accounted for 23%.
As far as VMware is concerned, it has placed itself well to benefit from increasing adoption of cloud-based solutions. The company's integrated SDDC platform comprising offerings like vSphere, Virtual SAN and NSX allows users to avail enterprise-ready cloud infrastructure for both private and public cloud. The company's ongoing partnership with IBM enables its VSphere customers to initiate workloads on the IBM SoftLayer cloud infrastructure.
The deal, if it materializes, could help both AWS and VMware expand their customer base.
Currently Amazon is a Zacks Rank #3 (Hold) company. You can see the complete list of today's Zacks #1 Rank (Strong Buy) stocks here.
5 Trades Could Profit "Big-League" from Trump Policies
If the stocks above spark your interest, wait until you look into companies primed to make substantial gains from Washington's changing course.
Today Zacks reveals 5 tickers that could benefit from new trends like streamlined drug approvals, tariffs, lower taxes, higher interest rates, and spending surges in defense and infrastructure. See these buy recommendations now >>
Want the latest recommendations from Zacks Investment Research? Today, you can download 7 Best Stocks for the Next 30 Days.
Click to get this free report
Amazon.com, Inc. (AMZN): Free Stock Analysis Report
Alphabet Inc. (GOOGL): Free Stock Analysis Report
Microsoft Corporation (MSFT): Free Stock Analysis Report
Vmware, Inc. (VMW): Free Stock Analysis Report
To read this article on Zacks.com click here.
Zacks Investment Research