Trade with confidence. Are you a professional trader? Be the first to get the alert with Benzinga Pro's real-time newsfeed and audio squawk and never miss an opportunity again.
Don't miss the chance to try it FREE today.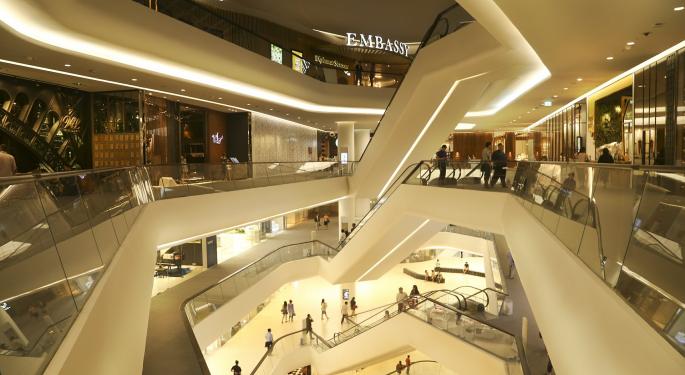 Green Street Advisors, a research gathering firm that focuses on real estate and REIT companies, believes department stores as a whole need to slash hundreds of sites to regain the productivity they enjoyed a decade ago.
As noted by the Wall Street Journal, department stores would need to close roughly 800 stores to counter the growing trend of online shopping. In fact, the report noted that while retailers including Sears Holdings Corp SHLD 1.87%, Macy's, Inc. M 1.61% and J C Penney Company Inc JCP 0.63% have closed hundreds of stores, it hasn't resulted in sufficient action to regain lost sales from online merchants including Amazon.com, Inc. AMZN 0.58%.
The Fall Of The Department Store?
Sales at department stores averaged $165 a square foot in 2015, the report noted. This marked a 24 percent decrease from 2006's level.
Green Street continued that J.C. Penney would need to close 320 stores, or 31 percent of its footprint, to return to 2006's productivity level. Sears would need to close 300 of its stores, or 43 percent of its footprint, to regain 2006's sales per square foot level.
The decline in department store sales could also be attributed to the fact that many of the brands sold in department stores have stores of their own.
Finally, Green Street's report suggested that a large reduction in department store locations could spell doom for malls.
"If department stores were to move forward and aggressively streamline their physical presence it could result in several hundred malls no longer being relevant retail destinations," the Wall Street Journal quoted Green Street's DJ Busch as saying.
© 2016 Benzinga.com. Benzinga does not provide investment advice. All rights reserved.