After a sharp 30%-plus drop in biotechnology stock Vertex Pharmaceuticals (VRTX - Get Report) this year, this maker of cystic fibrosis medications is a red-hot pick for investors seeking deep value.
Among large-capitalization stocks, Vertex has seen some of steepest losses along with Alexion, Illumina, Incyte and Regeneron.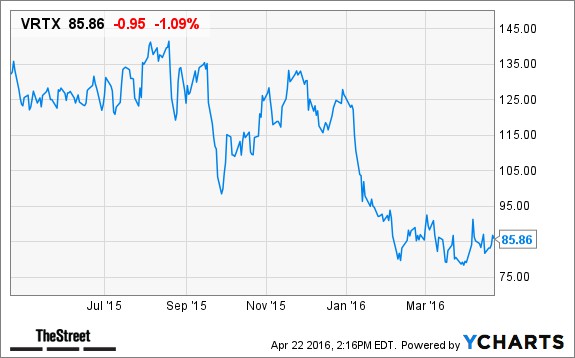 And yet, with expected 48% annual earnings-per-share growth over the next half a decade, Vertex could grow at almost twice the speed of the industry.
What's more, the stock is dirt cheap now, with a price-to-earnings-growth ratio of 0.87. That is why Vertex is one of the most promising growth investments in this volatile market.
Let's dig a little deeper.
Despite increasing sales five fold in 10 years and having gross margins near 90%, profits have mostly eluded Vertex, with 2011 an exception. That has been the standard Wall Street beef with this company.
Vertex isn't a Valeant Pharmaceuticals with itscreative accounting, nor is it a Gilead Sciences, which hiked the price of a hepatitis C treatment to $1,000 per pill.
As a company that in the mid-1990s started researching AIDS, cystic fibrosis and hepatitis C drugs, Vertex's...
More