An eye-opening study by Bespoke Investment Group could help market timers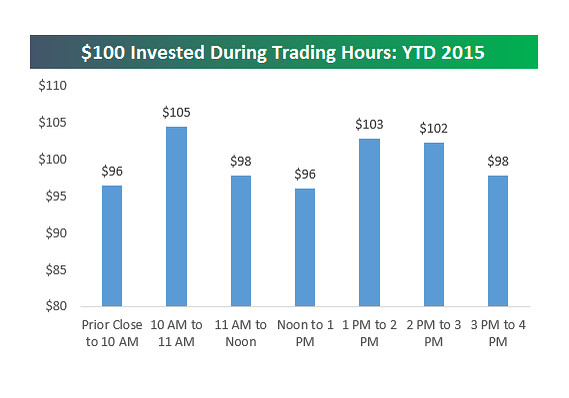 Bespoke Investment Group
The biggest increases for the S&P 500 this year have been generated between 10 a.m. and 11 a.m. ET, but the longer-term data are even more interesting.

If you're a day trader, you might know how to time stock trades. But what about timing the broader market?
Bespoke Investment Group released a report Wednesday that said most 2015 gains in the S&P 500 Index SPX, +1.49% have been made between 10 a.m. and 11 a.m. Eastern Time. Bespoke Investment Group of Harrison, N.Y., offers wealth-management and research services.
The chart above shows the current value of $100 invested at the beginning of 2015, depending on the time of the day you held the investment. The data are based on hourly price performance for the benchmark index.
This second chart, based on hourly price patterns since the bull market began on March 9, 2009, is even more interesting: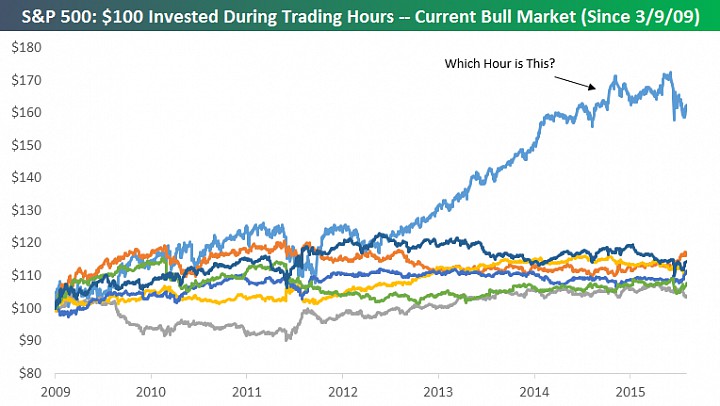 According to Bespoke analyst George Pearkes, the overnight period from the prior market close until 10 a.m. ET offers the best longer-term performance.
"The broad take-away is that the majority of gains have happened when the market wasn't trading," Pearkes said in an interview Wednesday. "If you are only trading between 9:30 a.m. and 4 p.m. and going out flat every night, you are missing a huge amount of the overall moves the index is making."
Examples of S&P 500 ETFs you can use to try and take advantage of this trading pattern include the Vanguard S&P 500 Index ETF VFV, +0.87% the SPDR S&P 500 Index ETF Trust SPY, +1.54% and the iShares S&P 500 Index ETF IVV, +1.53%
Pearkes said company, economic and other news greatly affects stock prices even when the U.S. market is closed.
"Over time, the information that the market operates on is flowing 24 hours a day, so if you are trying to enter and exit only when the market is open, you may be missing out," he said. "In a weak market, that may be good thing, hypothetically, but over the long run, the majority of gains happen when the market is not open."
How could a day trader take advantage of this information?
"By not buying at the open every day," Pearkes said. "If the biggest moves are taking place between the close and 10 a.m. each day, if you buy at the open, you are always buying high. So hold stocks overnight."
More from MarketWatch