Proofpoint provides threat protection, incident response, regulatory compliance, archiving, governance, eDiscovery, and secure communication solutions all over the world. Proofpoint's market capitalization grew up more than 351% since IPO in 2012.  <!== INSTRUMENT %% %1440% ==!>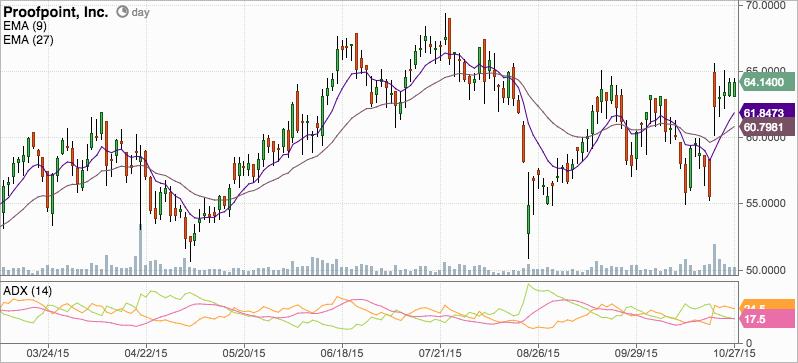 Proofpoint gets most of the revenue from the subscription. Let's check the operating and financial metrics. 
Number of clients grew up from 3,100 as of June 2014 to 3,400 as of June 2015. The company continues to grow the customer base and signed around 100 clients in Q2. This is the positive trend, especially because of the slow down in the customer base growth.
Average revenue per account
ARPA is growing as well. This year average revenue per customer increased significantly from around $27.7K as of June 2014 to $34.5K as of June 2015 (+24.35%). In the Q1 this growth rate was even higher +27.34%. I assume that Proopoint will be able to increase its ARPA by 21-22% this year.
The company increased both product development and sales & marketing sales as % of revenue. Moreover, sales and marketing expenses were around 54.5% as of June 2014 and grew up to 60.3% as of June 2015.
I want to analyze the marginality of the subscription product (around 97% of revenue), moreover, I usually analyze the marginality per one customer. The important thing is that the marginality per one account decreased by more than 100% (around negative $3K as of June 2014 to negative $6K as of June 2015). Note: I usually take the ARPA, cost of revenue, product development and sales expenses, because this calculations show the exact marginality of the product itself.
Summary
Proofpoint is reducing its marginality, the reduction rate is really high. This is very important problem: the company spends too much money on sales and marketing. I think that the company is overvalued at the moment.