Last week the USD/JPY pushed to its highest level since Sept. 20th in the wake of the ECB rate decision and the NFP data. so far on Monday we consolidate near the top of that recent action.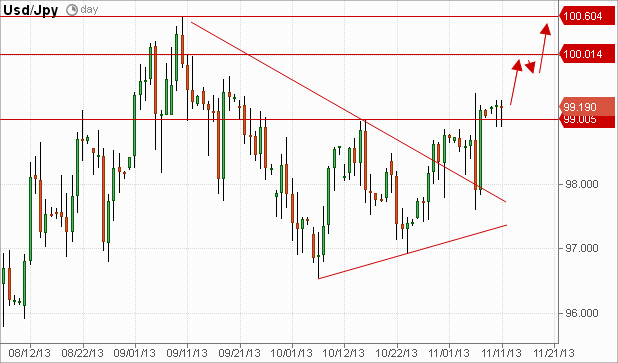 If we look at the daily chart, we see that we have an important resistance turned to support level now right around the 99.00 handle.

Could this be the staging ground for a move towards 100.00 and the highs we saw in early September at 100.60?
 The key will be what happens with US yields. We know that the USD/JPY has a tight correlation to the spread between US and Japanese bonds, and with the likelihood of tapering being pushed closer a bit with the recent US services and employment data along with the interpretation of the latest FOMC meeting means yields in the US are rising (a positive factor for the USD/JPy pair).

Therefore, the bias is for more USD gains in this pair from a fundamental/macro perspective.