Momentum in base business complemented by strategic expansion into family health genetics
Hosting conference call today at 4:30 pm ET / 1:30 pm PT
SAN FRANCISCO, Nov. 6, 2017 /PRNewswire/ -- Invitae Corporation (NVTA), one of the fastest growing genetic information companies, today announced financial and operating results for the quarter ended September 30, 2017, including continued business momentum, double-digit sequential volume and revenue growth, and a strengthened financial position.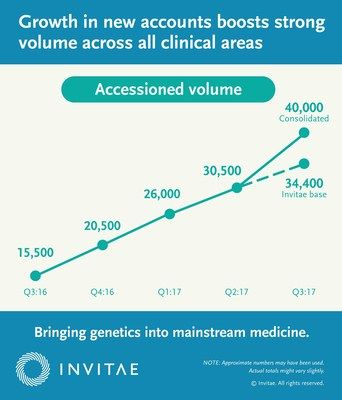 Third Quarter 2017 Operational Highlights
Strategic expansion into reproductive health creates comprehensive platform offering genetic information through every stage of life:
Robust volume growth in base business, increasing momentum and rapid integration drive strong fundamentals on consolidated basis:
Significantly strengthened balance sheet to support strategic growth opportunities, accelerate integration and fund company to anticipated breakeven by year-end 2018:
"Our results this quarter demonstrate strong growth in our base business in the increasingly competitive field of adult inherited genetics, even as we undertook two significant acquisitions to propel us into family health genetics. We believe we are on track to deliver our annual volume and revenue guidance, which is expected to be double our volume from the prior year," said Sean George, chief executive officer of Invitae. "As we work to better serve the needs of clinicians and their patients with high-quality, affordable testing through all stages of life, we are well positioned to successfully launch a fully integrated platform in 2018 that leverages the reproductive health portfolio from Good Start Genetics, as well as the anticipated addition of products from CombiMatrix. Our comprehensive platform will help us drive genetic information ever-further into mainstream medical practice."
Third Quarter 2017 Financial Results
On August 4, 2017, Invitae completed its previously announced acquisition of Good Start Genetics. Invitae's consolidated operating results below for the three months ended September 30, 2017 include the results of Good Start Genetics beginning on the acquisition date. References to "base Invitae business" operating results and business measurements refer to Invitae third quarter 2017 results excluding any contribution from Good Start Genetics.
Generated total consolidated GAAP revenue of $18.1 million, up 189% year over year.
Accessioned more than 40,000 samples on a consolidated basis.
Achieved positive gross profit of nearly $5.0 million total on a consolidated basis.
Reduced cost of goods sold (COGS) per sample accessioned from approximately $450 in the third quarter of 2016 to approximately $330 in the third quarter of 2017.
Total operating expenses for the third quarter of 2017, excluding cost of goods sold, were $35.9 million compared to $23.9 million in the third quarter of 2016. For the third quarter of 2017, Invitae reported a net loss of $27.4 million, or a $0.57 loss per share, compared to a net loss of $25.0 million in the third quarter of 2016, or a $0.77 loss per share.
Cash used in operating activities in the nine months ended September 30, 2017 was $66.7 million, compared to $59.3 million in the same period in 2016. At September 30, 2017, cash, cash equivalents, restricted cash and marketable securities totaled $106.5 million.
Strategic Advancements
Made significant progress integrating newly acquired Good Start Genetics, combining day-to-day operations, systems and policies.
Completed integration of CancerGene Connect technology into Invitae platform making one of the most efficient, end-to-end platforms available for collecting and managing genetic family histories more broadly available to clinicians.
Scientific Presence
Published a detailed and transparent approach for classifying variants at scale in Genetics in Medicine. Sherloc, a comprehensive analytic framework, refines existing genetic variant classification guidelines, resulting in more than 100 refinements to the 2015 American College of Medical Genetics (ACMG)-Association of Molecular Pathologists (AMP) guidelines to ensure confident and consistent variant classifications with the goal of increasing consistency in classification industry-wide.
Presented over 36 posters and 10 platform presentations at a variety of scientific conferences, including at the Southeastern Regional Genetics Group (SERGG) Annual Meeting, at the National Society of Genetic Counselors (NSGC) 36th Annual Conference, at the 2017 Child Neurology Society (CNS) Annual Meeting, at the American Society of Human Genetics (ASHG) Annual Meeting, at the 2017 Collaborative Group of the Americas on Inherited Colorectal Cancer (CGA) Annual Meeting, and at the American Society for Reproductive Medicine (ASRM) 2017 Scientific Congress and Expo. Data highlighted include:
Webinar and Conference Call Details
Management will host a webinar and conference call today at 4:30 p.m. Eastern / 1:30 p.m. Pacific to discuss financial results and recent developments. The dial-in numbers for the conference call are (844) 579-6824 for domestic callers and (763) 488-9145 for international callers, and the reservation number for both is 99386744.
The live webinar and conference call may be accessed by visiting the investors section of the company's website at ir.invitae.com. A replay of the webinar will be available shortly after the conclusion of the call and will be archived on the company's website.
About Invitae
Invitae Corporation (NVTA) is one of the fastest growing genetic information companies in the United States. Invitae Corporation's mission is to bring comprehensive genetic information into mainstream medical practice to improve the quality of healthcare for billions of people. Invitae's goal is to aggregate the world's genetic tests into a single service with higher quality, faster turnaround time, and lower prices. For more information, visit our website at invitae.com.
More