Oil bulls may only need to be patient for a little while longer.
West Texas Intermediate oil prices seem to have hit a brick wall around $54.40 a barrel, but after a 46% drop over the past six months, a rebound is in the cards.
"From a historical basis, the harder they fall the harder they rebound," said Phil Flynn, senior market analyst at Price Futures Group. Prices CLH5, -3.76% on Nymex traded at roughly $96 in mid-August. They now trade at close to $52.
A rebound will take some time, however.
On a technical basis, oil has seen a so-called "triple-top formation" — a bearish reversal pattern which shows three equal highs, followed by a break below support, according to Nour Al-Hammoury, chief market strategist at ADS Securities. Prices have been seeing lower highs. So far this month, prices have been trying, and failing, to break above resistance at $54.40.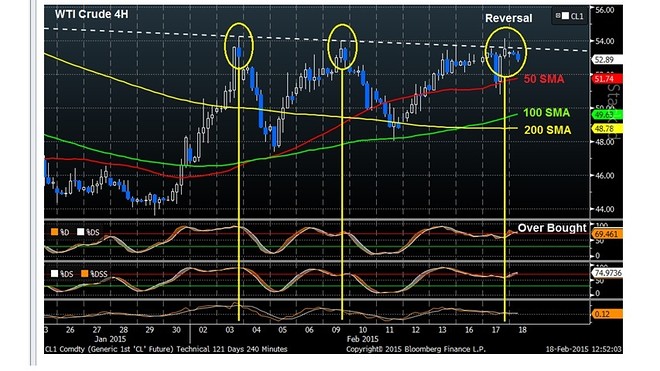 "The technical outlook remains negative, with stops above $54.40 for now," Al-Hammoury said, adding that the market is waiting for a catalyst for a further decline.
The oil market may find that catalyst in weekly supply crude-oil supply data from the closely watched U.S. Energy Information Administration due out Thursday morning. Analysts polled by Platts expect to see a supply increase of 3.1 million barrels to total inventories, which already stand at an EIA record.
Even so, if history offers any guide, prices could see a rebound in the next three months.
Since 1980, there have been 12 times that oil prices saw a drop of more than 40% in a six-month period, based on research done by Price Asset Management. The data table shows that prices tend to rebound about three months later and continue to climb.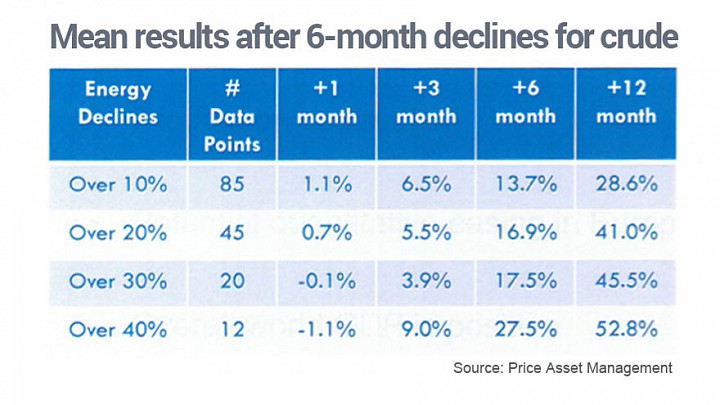 "Bigger drops saw bigger rebounds," Flynn said. He expects oil to soon retest $70 a barrel and possibly $80 in the next 12 months.
"Ultra bears have it wrong …. they underestimate the impact that [quantitative easing] and interest-rate cuts have on prices and demand prospects," he said. "You don't fight the Fed and you should not fight the 12 global central banks that represent 60% of the globe that are cutting rates to try to avoid deflation and try to stimulate the price of oil."
If stimulus plans in Europe and China pan out and increase demand for oil, "then at that point, the capital spending cuts and historic drop in rig count cuts may start to matter," said Flynn.
Myra Saefong