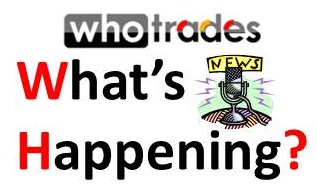 Upcoming S&P 500 Earnings Releases:
Check out the earnings parade of the big companies
Before the bell:
Coach, Inc. 
Delta Air Lines 
DuPont
EMC Corp. 
Freeport-McMoRan Copper & Gold
Forest Laboratories, Inc.
Harley-Davidson 
Illinois Tool Works Inc.
Kimberly-Clark
Lockheed Martin 
McGraw Hill Financial 
Pentair Ltd.
Ryder System Inc 
Reynolds American Inc. 
Sigma-Aldrich Corp.
State Street Corp. 
The Travelers Companies, Inc. 
United Technologies 
Waters Corp.
Whirlpool Corp.
After the bell:
Altera Corp.
Amgen
C. R. Bard, Inc. 
Broadcom 
FMC Technologies, Inc.
Juniper Networks Financial Result
Nabors Industries Ltd 
Robert Half International 
Total System Services, Inc.
---
Important Data Releases:
Canada:
8:30AM EST Statistics Canada will release Core Retail Sales m/m,which measures change in the total value of sales at the retail level, excluding automobiles.
US:
8:30AM EST Bureau of Labor Statistics will release Non-Farm Employment Change,which measures change in the number of employed people during the previous month, excluding the farming industry, and will also release Unemployment Rate, which measuresthe percentage of the total work force that is unemployed and actively seeking employment during the previous month. Please note that release date has been delayed by 18 days due to the US government shutdown.
Australia:
8:30PM EST Australian Bureau of Statistics will release CPI q/q,which measures change in the price of goods and services purchased by consumers.