S&P500 Earnings:
There is no upcoming S&P500 Earnings Release this week. Stay tuned for next week update! Please take a look at the tabled below for best and recent earnings and stocks' performances after earning releases.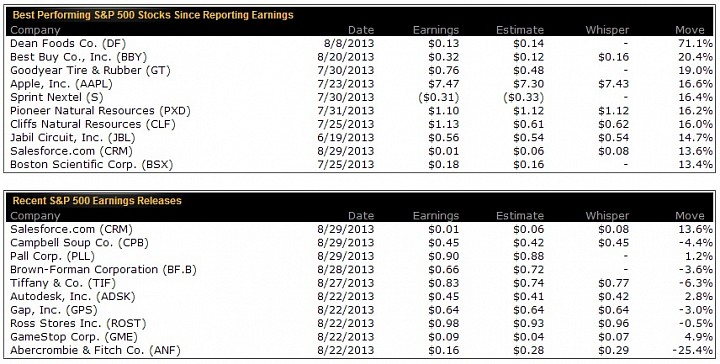 Source: www.earningswhispers.com ;Retrieved information on September 4, 2013.
---
Important Data Releases:
On Thursday September 5, there are important data releases in the US, Europe, and Japan.
US:
- ADP Non-Farm Employment Change, released by Automatic Data Processing, Inc., measures the estimated change in the number of employed people during the previous month, excluding the farming industry and government. This data provides an early look at employment growth.
- Unemployment Claims, released by Department of Labor, measures the number of individuals who filed for unemployment insurance for the first time during the past week.
- ISM Non-Manufacturing PMI, released by Institute for Supply Management, measures the level of a diffusion index based on surveyed purchasing managers, excluding the manufacturing industry.
Europe:
In UK, Bank of England will release:
- Asset Purchase Facility measures the total value of money the BOE will create and use to purchase assets in the open market.
- Official Bank Ratemeasures interest rate at which banks lend balances held at the BOE to other banks.
- MPC Rate Statement is among the primary tools the Monetary Policy Committee uses to communicate with investors about monetary policy.
For Euro Zone, European Central Bank will release:
- Minimum Bid Rate, measures interest rate on the main refinancing operations that provide the bulk of liquidity to the banking system.
- ECB Press Conference is the primary method the ECB uses to communicate with investors regarding monetary policy.
Japan:
- BOJ Press Conference, released by Bank of Japan, is among the primary methods the bank uses to communicate with investors regarding monetary policy.