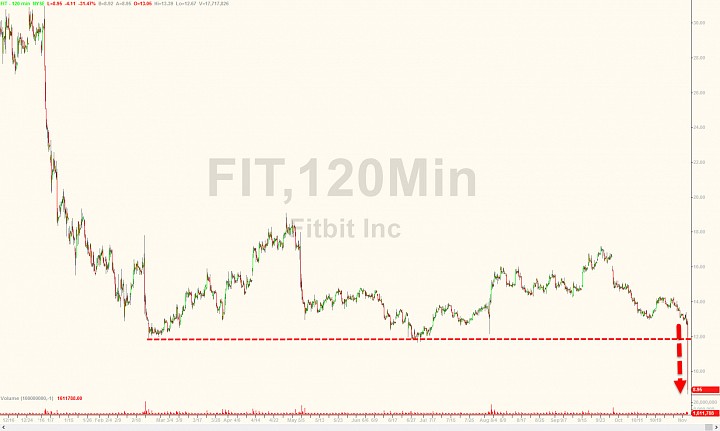 Down 30% in a day?
That's right, Fitbit (FIT) just fell from $12 to $9, dropping $1Bn in market cap overnight as they missed revenues ($503.8M) by $3.13M (0.6%%) and guide their Q4 projections 25% lower than expectations.  This isn't about FIT in particular, they are just the most recent disappointment this earnings season – this is about how a well-followed company, with 21 analysts on their case, who had an AVERAGE price target of $20.88, can fall from $30 to below $10 (66.6%) in a single year.
This is more an indictment of a market that is unrealistically priced than it is of just FIT.  I keep telling our Members not to mess around with companies that have dot-com level valuations of 100x or more of their earnings and FIT isn't even one of those, they will probably end up earning just under $1 for each of those now $9 shares – the reaction is simply an indication of how hollow the support is for any of these stocks – now that the smart money base has been removed – leaving only the sheeple and their tendency to stampede in overvalued posiitons that will SHOCK them at earnings. 
IN PROGRESS
Provided courtesy of Phil's Stock World.