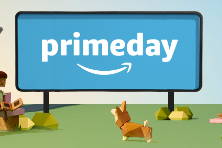 Stocks to watch on Thursday:
Twitter (TWTR) - the social media stock is trying to plow through major resistance in the $19 range. All of the previous issues such as a void in executive leadership is disappearing as the top executives are sticking around and new ones keep on joining. Twitter heads higher as the site is now officially back in growth mode.
Amazon (AMZN) - Prime Day drove huge volume, but the company missed Q3 estimates after similar success in 2016. Selling millions of item at a huge discount will most definitely hit the bottom line. Ride the momentum for now, but expect weakness in the next few months.
Snap (SNAP) - broken record here. Snap ended down again. Avoid!
Frontier Comm. (FTR) - the telecom keeps getting hit from the reverse split. The negative event ends up positive for shareholders 35% of the time and Frontier should turn out as one of the positive outcomes as the stock traded above $50 prior to discussing such a move. Any rebound combined with the $2.40 annual dividend would provide a solid gain.
Click on the Sign in/Sign up button in the top right corner to join for free to comment on your stock moves for tomorrow.
Click on the Follow button to get daily blog posts from Out Fox The $treet.
Disclosure: Long TWTR