ResMed Inc. RMD announced fourth-quarter fiscal 2017 adjusted earnings per share (EPS) of 77 cents, up 4.1% from the prior-year quarter level. Earnings also beat the Zacks Consensus Estimate by 2 cents.
Including one-time items, ResMed reported EPS of 71 cents in the quarter, up 20.4% year over year.
For the full year, adjusted EPS came in at $2.82, a 5.2% increase from fiscal 2016 figure.
Revenues in Detail
Revenues in the reported quarter increased 7.3% (up 8% at constant exchange rate or CER) year over year to $556.7 million. This figure also exceeded the Zacks Consensus Estimate of $549 million. Excluding the contribution from the Brightree business, revenues increased 6% year over year.
Full-year 2017 revenues came in at $2.07 billion, a 12.3% rally from the year-ago period.
ResMed Inc. Price, Consensus and EPS Surprise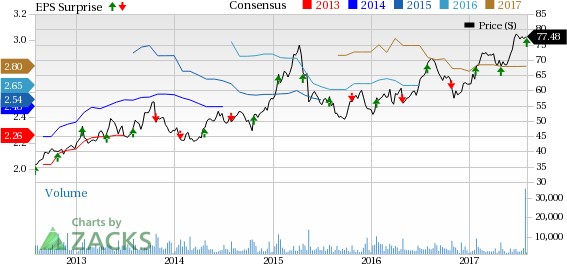 ResMed Inc. Price, Consensus and EPS Surprise | ResMed Inc. Quote
Geographically, revenues in the Americas rose 8% year over year to $350.2 million, which included Brightree revenues of $36.2 million. Excluding Brightree, revenues in the Americas totaled $314 million, reflecting a 6% increase over the prior-year quarter. This solid result was fueled by growth in devices as well as a low double-digit rise in software sales.
Combined revenues from EMEA and APAC regions were $206.5 million, highlighting a 9% rise at CER compared with the same period, last year. Growth was particularly strong in the UK, France, Japan, Australia and New Zealand.
Adjusted gross margin expanded 11 basis points (bps) year over year to 58.2% in the reported quarter. Selling, general and administrative expenses were up 10.4% year over year to $147.9 million, while there was a 6.8% increase in Research and Development expenses to $36.7 million. This has further led to a 9.7% rise in adjusted operating expenses, amounting to $184.6 million. Accordingly, adjusted operating margin in the quarter contracted 61 bps to 24.9%.
Financial Update
ResMed exited the year 2017 with cash and cash equivalents of $821.9 million compared with $731.4 million at the end of 2016.
In the entire year, the company generated $414.1 million of cash flow from operations, down from the year-ago figure of $547.9 million, displaying weak underlying earnings and a decline in net working capital balances.
Through fiscal 2017, ResMed paid $186.3 million in dividends.
Also, during its fiscal fourth-quarter earnings release, ResMed announced an increase in quarterly dividend by 6% to 35 cents per share. The dividend will be paid out on on Sep 21, 2017, to shareholders on record as of Aug 17, 2017.
As previously declared, ResMed temporarily suspended its share repurchase program due to recent acquisitions. However, the company still expects to recommence this buy-back program in the second quarter of fiscal 2018.
Guidance
While ResMed has not provided any definite guidance for fiscal 2018, the company stated that it is well-positioned to achieve its 2020 financial and strategic goals. The company is successfully working on a pipeline of new products and connected care solutions for sleep apnea, COPD, neuromuscular disease and other clinical adjacencies.
Our Take
ResMed exited fourth-quarter fiscal 2017 on a promising note with both earnings and revenues beating the Zacks Consensus Estimate. On the bright side, the company achieved solid high single-digit global revenue growth this quarter, led by sales of sleep devices, respiratory care devices, mask systems and software solutions. Brightree has acted as a significant contributor to the company's operating results through 2017.
Yet, challenges like competitive bidding and reimbursement issues continue to plague the stock. Foreign exchange movements dented the third-quarter earnings by 3 cents, thanks to a weaker Euro and stronger Australian dollar relative to the U.S. dollar.
Zacks Rank & Key Picks
ResMed currently has a Zacks Rank #2 (Buy). Other top-ranked stocks in the broader medical space are Edwards Lifesciences Corporation EW, INSYS Therapeutics, Inc. INSY and Align Technology, Inc. ALGN. All the three stocks sport a Zacks Rank #1 (Strong Buy). You can see the complete list of today's Zacks #1 Rank stocks here.
INSYS Therapeutics has expected long-term earnings growth rate of 20%. The stock has gained around 4.7% over the last three months.
Align Technology has expected long-term adjusted earnings growth of almost 24.1%. The stock has surged roughly 24.7% over the last three months.
Edwards Lifesciences has a long-term expected earnings growth rate of 15.2%. The stock has gained around 4.7% over the last three months.
More Stock News: Tech Opportunity Worth $386 Billion in 2017
From driverless cars to artificial intelligence, we've seen an unsurpassed growth of high-tech products in recent months. Yesterday's science-fiction is becoming today's reality. Despite all the innovation, there is a single component no tech company can survive without. Demand for this critical device will reach $387 billion this year alone, and it's likely to grow even faster in the future.
Zacks has released a brand-new Special Report to help you take advantage of this exciting investment opportunity. Most importantly, it reveals 4 stocks with massive profit potential. See these stocks now>>
Want the latest recommendations from Zacks Investment Research? Today, you can download 7 Best Stocks for the Next 30 Days.
Click to get this free report
ResMed Inc. (RMD): Free Stock Analysis Report
Edwards Lifesciences Corporation (EW): Free Stock Analysis Report
Insys Therapeutics, Inc. (INSY): Free Stock Analysis Report
Align Technology, Inc. (ALGN): Free Stock Analysis Report
To read this article on Zacks.com click here.