It appears the worst fears of many Greeks may be coming true following a Stratfor report that Piraeus Bank ATMs in downtown Athens appear to have run out of money - telling "customers that there is no cash and the situation will last through the weekend." However, locals, reporting on Twitter, claim this is false. Greek stocks (especially banks) are down hard, as itthe EURUSD.
Stratfor reports Piraeus is out of cash...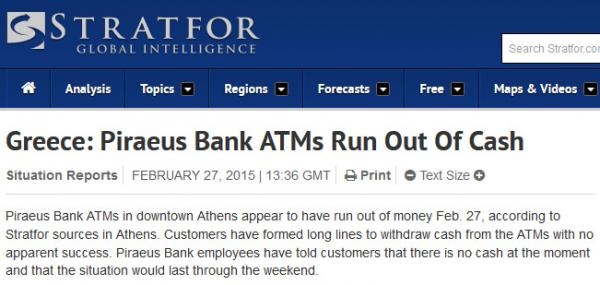 It seeems not everyone is so sure...
https://twitter.com/fxmacro

Total BS, was just there. End of month today and pensioners always there to collect pensions and pay bills.

https://twitter.com/Stratfor

got suckered

— Thanassis Drogossis (@tdrog1)

https://twitter.com/tdrog1/status/571315271631306752
Of course, the mere fact that this is possible is likely to spark some fear into The Greek people as they watch their newly elected government 'negotiate' their futures away.
While the Stratfor report may or may not be accurate, the reason why Greek risk is selling off today is that as we reported last night, out of left field Greece decided to lob a grenade across the Troika bow when it threatened that it may "delay" its repayment of one of the seveeral IMF loans due for repayment as soon as one week from today...