Chinese investors, left out of Alibaba Group Holding Ltd.'s U.S. initial public offering, are piling into the next-best thing.
The seven mainland-traded companies that either sold stakes to Alibaba or have partnerships with the e-commerce business have rallied 15 percent on average over the past month through yesterday, beating theShanghai Composite Index by 10 percentage points, data compiled by Bloomberg and GF Securities Co. show. Financial software developer Hundsun Technologies Inc. (600570)has climbed 24 percent while China Shipping Container Lines Co. (601866), whose parent works with Alibaba on cross-border logistics, rose 19 percent.
The gains reflect increasing confidence that Alibaba's IPO, which would be one of the biggest in history at an estimated $21.8 billion, will brighten prospects for business partners as the Hangzhou-based company founded by Jack Ma gets more capital to fund growth. They also show how Chinese investors are finding new ways to gain exposure to the nation's booming e-commerce industry after its biggest companies chose to list on foreign bourses inaccessible to most mainland investors.
"It's the networking effect," said Hao Hong, a Hong Kong-based strategist at Bocom International Holdings Co. "If Alibaba does well, the benefits will flow through."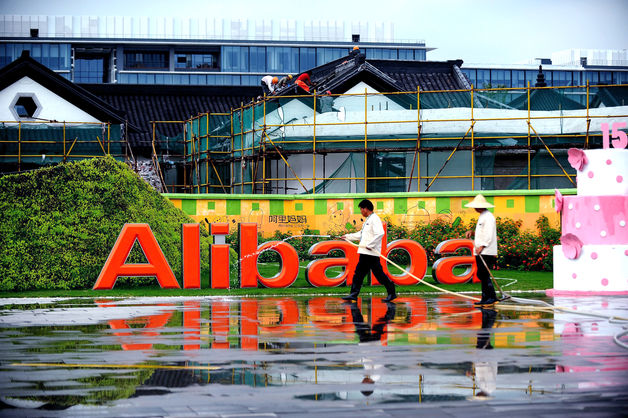 Synthetic Trading
The strategy is similar to one adopted by Bank of America Corp., which is giving clients a chance to bet on Alibaba's performance through a product that uses the company's largest shareholder, SoftBank (9984) Corp., as a basis for approximating its valuation. An index that BofA created to represent the synthetic Alibaba trade, which uses short positions to negate the impact of SoftBank's other main businesses, has tripled since early March, according to data compiled by Bloomberg.
Demand for the IPO has been so strong that Alibaba yesterday boosted the price it is offering the shares for to between $66 and $68 apiece, according to a regulatory filing, compared with an initial range of $60 to $66 each. The company and its backers including Yahoo! Inc. (YHOO) plan to sell 320.1 million shares.
China's E-Commerce Giant
Alibaba's IPO could top Agricultural Bank of China Ltd.'s more than $22 billion sale in 2010 as the world's biggest. The size may increase further if Alibaba prices its shares above the range, which it can do without additional regulatory filings, or allows underwriters to sell more shares to help meet excess demand.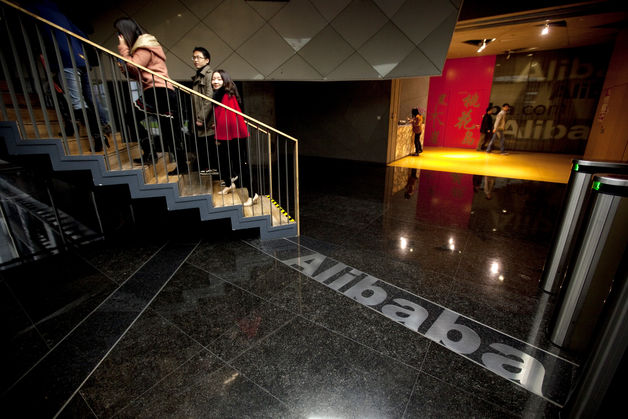 Internet Boom
A market-capitalization weighted index of seven Alibaba-linked companies with mainland listings climbed to the highest level since May 2008 yesterday.
The firms include Suzhou Gold Mantis Construction Decoration Co. (002081), a designer of hotels and office buildings, and Huayi Brothers Media Corp. (300027), whose movie "Journey to the West: Conquering the Demons" generated the most revenue among domestic films in 2013. Alibaba or related entities own stakes in both companies, according to GF Securities.
Hundsun Technologies fell 2.7 percent at the close in Shanghai today, while Suzhou Gold Mantis retreated 5 percent. Huayi Brothers dropped 2.7 percent. The Shanghai index slid 1.8 percent at the close while the iShares China Large-Cap ETF jumped 1.4 percent to $40.93 at 2:17 p.m. in New York.
"It's a good strategy to buy shares of companies that are affiliated to Alibaba, since domestic investors can't directly invest in its IPO," Dai Ming, a money manager at Hengsheng Hongding Asset Management Co. in Shanghai, which oversees about $193 million, said by phone on Sept. 12.
Optimism about the IPO has also boosted Alibaba-linked shares outside the mainland. SoftBank, the Japanese telecommunications company that owns a stake in Alibaba, has gained 19 percent during the past month through yesterday while Yahoo! Inc., which has a 23 percent holding, rose 18 percent.
U.S. Listings
Chinese Internet users have grown to 632 million, greater than the population of any other country except India, and could exceed 850 million by 2015, according to government data. McKinsey & Co. predicts online retailing in the world's second-largest economy will reach $395 billion next year, triple its 2011 level.
Most of Alibaba's biggest competitors are traded outside China. JD.com Inc. (JD), a Beijing-based online retailer, is listed in the U.S. Baidu Inc. (BIDU), China's biggest search engine, also trades in New York, while Tencent Holdings Ltd. (700), operator of the WeChat social messaging network, is listed in Hong Kong. The latter two companies are forming an online shopping venture with Dalian Wanda Group, a Chinese developer, to challenge Alibaba.
China limits overseas equity investments by most of its citizens to those made through asset managers as part of the Qualified Domestic Institutional Investor program.
Apple Parallel
Some funds have been set up for investors looking to tap into Alibaba. Harvest Fund Management Co., one of China's oldest asset managers, has started Harvest Opportunities Target Fund 1 to give Chinese investors access to the Alibaba IPO.
Shenzhen-based Rongtong Capital Management Co. will introduce a program that enables clients to buy Alibaba shares through the firm's special program for qualified investors, the China Dailyreported July 4. Rongtong Capital officials weren't available to comment on the report.
Mainland investors have already priced in the positive impact of Alibaba's IPO on some affiliated companies, Zeng Xianzhao, an analyst at Everbright Securities Co., said by phone from Chongqing.
Hundsun Technologies was valued at 62 times reported earnings yesterday, the highest multiple since 2010, versus 11 for the Shanghai Composite Index (SHCOMP), according to data compiled by Bloomberg. Huayi Brothers Media has a multiple of 42.
Spillover Effects
The performance of Apple Inc. (AAPL) suppliers in China may offer a guide for what to expect from Alibaba-linked companies, according to Hengsheng Hongding Asset's Dai Ming. Goertek Inc., a wireless communication products maker, has gained 95 percent since September 2011, while Han's Laser Technology Co. (002008) jumped 111 percent and Shenzhen Desay Battery Technology Co. advanced 124 percent. Apple, the California-based maker of iPhones, increased 81 percent during the period.
"The Alibaba-affiliated shares will get some spillover," said Chen Ruiming, a Shanghai-based strategist at Haitong Securities. "I would expect them to gain with the IPO."