As Chinese growth appears to be slowing from the statistically above mean performance of 7 percent, and its rivers, streams and lakes become increasingly polluted, there is a commodity the Asian nation uses that isn't typically linked in mainstream economic analysis: water.
HSBC Holdings plc (ADR) (NYSE:HSBC) (LON:HSBA)'s Hong Kong analyst Wai-Shin Chan notes that China will have "tough trade-offs ahead" as it balances water used to pump up manufacturing with the need for a government to ensure that limited water resources provide citizens food and basic energy security in the future. While the battle is not only seen in government near zero-sum decisions to defend its people versus industry, there are battles for water within industry, coal against cotton, for instance, that point to a growing threat to China's long term growth prospects.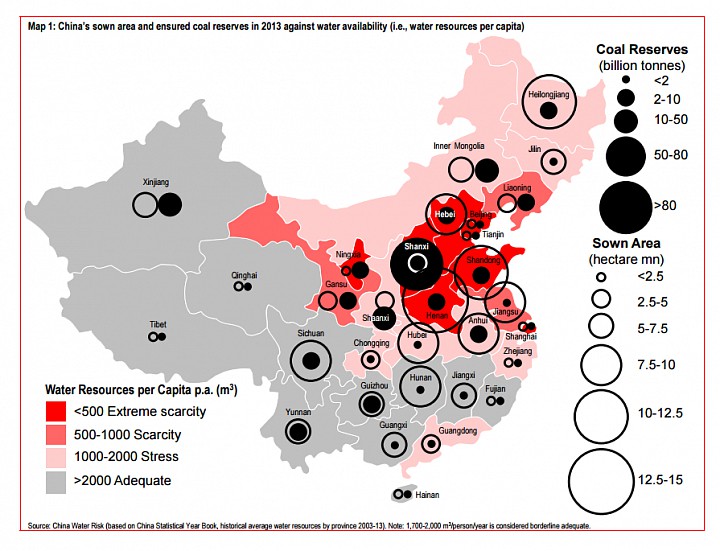 Agriculture used 3/5 of China's water but only contributes to 1/10 of national GDP
When looking at water scarcity in China, the economic and political hub of the centrally planned economy, just above Shanghai, that stands out. These regions, residents of The North China Plain, are, along with Shanghai province, are those primarily involved in an "extreme scarcity" of water. This extreme scarcity is forcing decisions that directly benefit and punish those involved. For instance, with three-fifths of water being devoted to support its agriculture industry – which only represents one tenth of national GDP – are those industries who overconsume and under-produce at risk of being on the wrong side of the central planning committee's harsh knife edge?
In regards to commodities, the report takes a particularly hard look at...
More