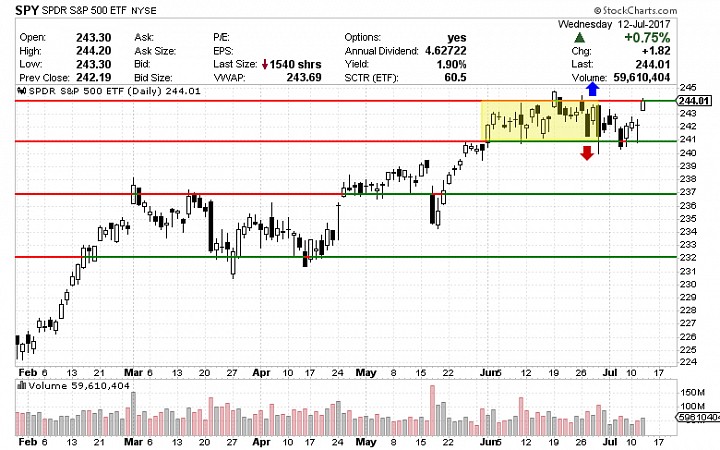 The markets will go down again now.
The reason doesn't matter – just that 2,440 is our magic number at the top and it's been a reliable shorting line since early June. Yellen's testimony yesterday was a very silly reason to have a rally – she said the same things she's been saying all year, neither more hawkish or more doveish than she was when the S&P was 10% lower than it is now.
This is right where we thought we'd be as yesteray, at 9:09 am, in our Live Chat Room, I said to our Members:
On the indexes, 2,440 on /ES is our current shorting spot and we can see that's going to line up with /YM 21,500, /NQ 5,775 and /TF 1,425 so we WANT to short /ES at 2,440 as long as the others aren't breaking over and if ANY of them break over, we stop out of /ES and wait for at least 2 of them to cross back under and then short the laggard.

The Nasdaq plowed up to 5,800 but the other indexes are right where we want to short them and the Russell (/TF) is our favorite short, at 1,425, moving $50 per contract (we prefer 2) per point in our favor. Whenever the answer to "Why did the markets make all-time highs today?" is "no particular reason" – then it's a good time to short.
Speaking of shorts, for yesterday's idea to short Oil (/CL) Futures, which hit our $46.20 target on the button and gave us a nice run back down to $45 for a $1,000 per contract gain and Gasoline (/RB) hit $1.50 for a $1,470 per contract gain and now we're back off the shorts as we're heading into the weekend where we're actually hoping Oil and Gasoline is pumped higher so we can short it again.
Not much happening today but Target (TGT) interestingly raised their guidance "as a result of improved traffic and sales trends through the first two months of the quarter." That suits us as we're long and it's a big raise from $1.06 to $1.15 and shares are up over 5% pre-market.…
Provided courtesy of Phil's Stock World.