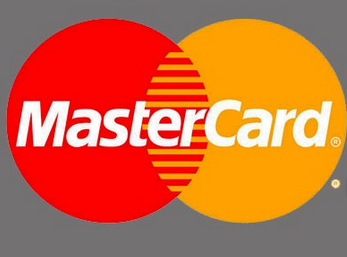 Most people investing in MasterCard (MA) and Visa (V) only see the positives of the global economies shifting to digital payments systems away from cash. Such shifts are good for payment networks, but most investors seem to ignore the valuations of these stocks. The two combine for a market cap of nearly $300 billion with Visa now at $190 billion. 
Both stocks are starting to show weakness with MasterCard hitting a series of lower highs. The highs from last November have continuously been met with the inability to break above $100 and hold.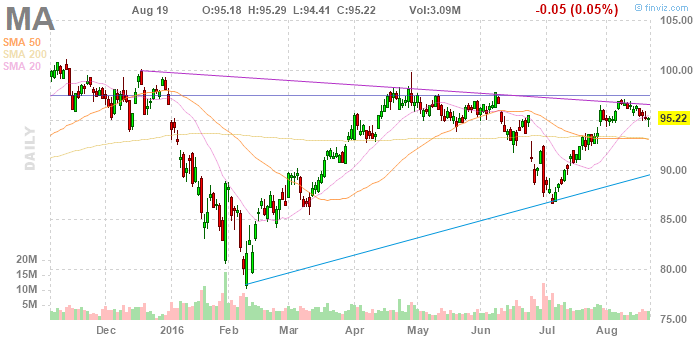 Visa hasn't shown the same levels of weakness, but the sock clearly has had trouble breaking above resistance around $80.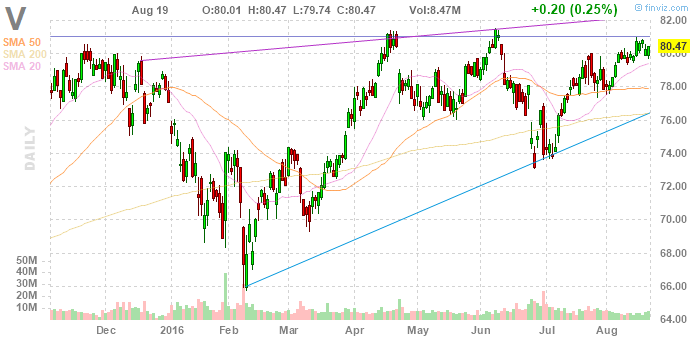 Part of the issue could be the big UK lawsuit on interchange fees or just a market worried about stretched valuations and a general environment where retailers and competitors are all looking for ways to avoid the high costs of using MasterCard and Visa. Either way, these stocks probably need a pullback before becoming interesting. 
Disclosure: No position