The American West Texas Intermediate has been in a nice steady uptrend since the beginning of 2014, that rally has taken the price from $91.20 to $105.2. The only serious hesitation occured at the second half of February, when the price hit the 61.8 Fibonacci level at $103.3 and started to consolidate below.
When you look at the weekly chart, you can see a very nice doji-like candle, which represents the last week´s price action.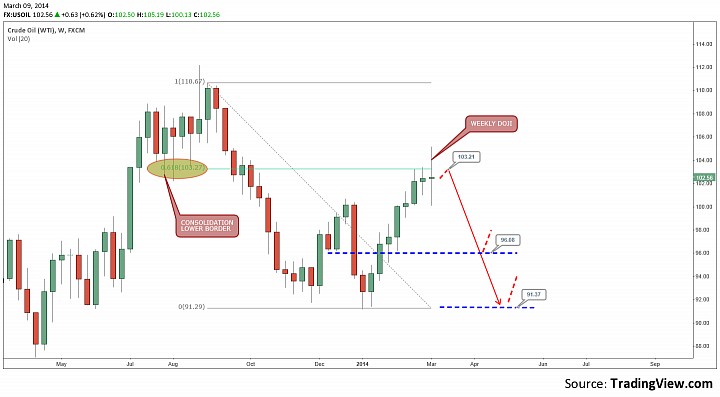 Even though I am not a big proponent of classical candlestick formations, this price behaviour tells me one thing: the buyers are hesitating and the sellers come on the scene! And, moreover, this all is happening at an important psychological level (61.8 Fibonacci retracement).
WHAT DO I EXPECT FOR THE UPCOMING WEEK?
Let us have a look at the daily chart!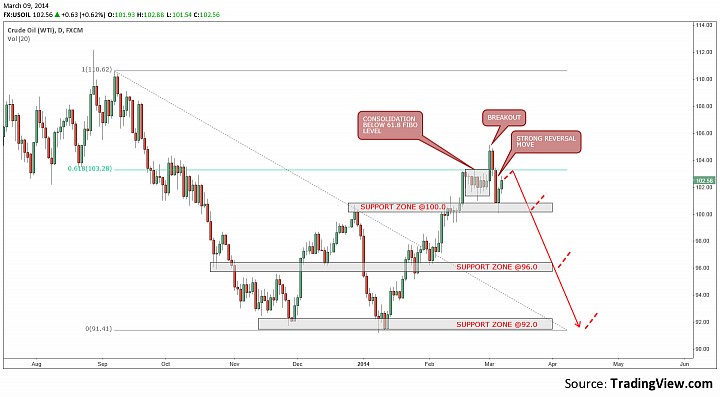 Although the price broke to the upside from the consolidation range ($101.50 - $103.20), which is undoubtly a sign of strength, on the other hand, this action was followed by a very strong reversal to the downside and the price retested the support at $100.00. Now the price is moving again to the upside and it might seem that the uptrend goes on. Of course, in terms of a conventional  market analysis, it is still the uptrend, but…
…
in my opinion
, there is a high probability of a drop in the upcoming week. The price might retest the $103.20 level and fall, or it may fall immediately
without any further upmove. In this case the price action above
$103.20 would be a typical "bull trap" (false break), which might supply the steam to a new downtrend.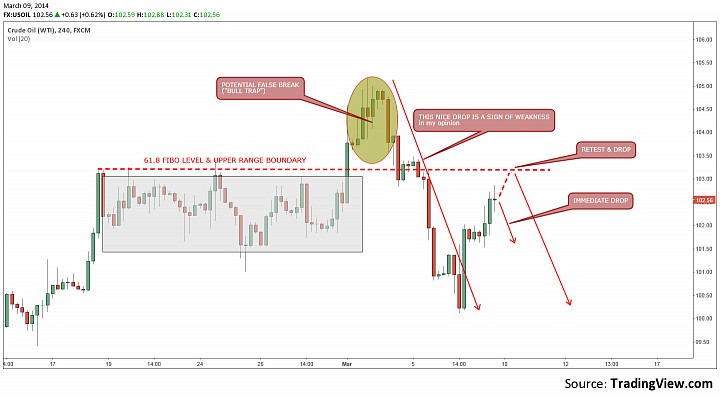 ...so, let the market proves me right or wrong!
My trading idea is based on a bearish pattern called "3G", which is a part of an uncoventional trading methodology used in our SMB Capital Forex and Futures Training Program.
For a deeper understanding you can join us on http://www.smbtraining.com/overview/forex-training
or you can watch my LIVE TRADING VIDEOS ON YOUTUBE.
In case of any questions or comments, be sure to send me an email or contact me via other social media as stated below.
Petr Suchanek
Forex, Futures & Options Trader
Email: psuchanek@smbcap.com
Twitter: @FlexibleTrader
StockTwits: http://stocktwits.com/FlexibleTrader
YouTube Channel: http://bit.ly/17jWiog
Training program: http://smbu.us/smbwh