The TJX Companies, Inc. (TJX) is an off-price apparel and home fashions retailer in the United States and across the world. The Company operates through four segments: Marmaxx, HomeGoods, TJX Canada and TJX International. T.J. Maxx and Marshalls chains in the United States are collectively the off-price retailer in the United States with a total of approximately 2,163 stores. The HomeGoods chain is an off-price retailer of home fashions in the United States with approximately 526 stores. The TJX Canada segment operates the Winners, HomeSense and Marshalls chains in Canada. Winners is the off-price apparel and home fashions retailer in Canada. The company is reporting earnings on Tuesday, August 16, after market close: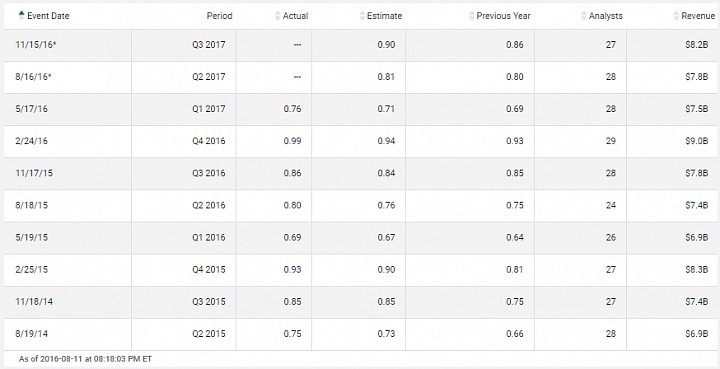 As evident from the above, the company beat earnings estimates in 88% of time in the last two years or so, showing in-line results in the rest of time, and has seen modest volatility and a strong positive trend in the market price of its stock over the last three months:
The market participants expect the following numbers over the next few quarters, including the upcoming one: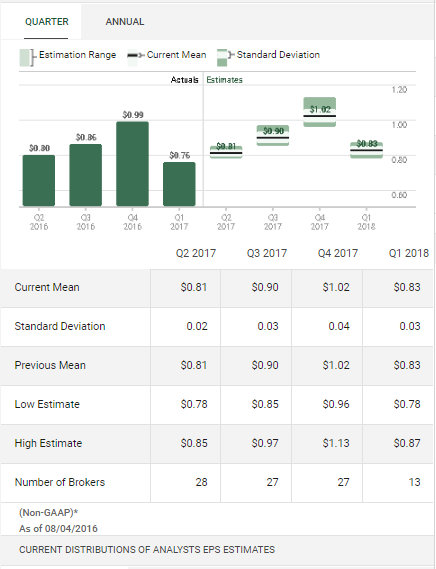 Market data show that the August options are a bit overvalued: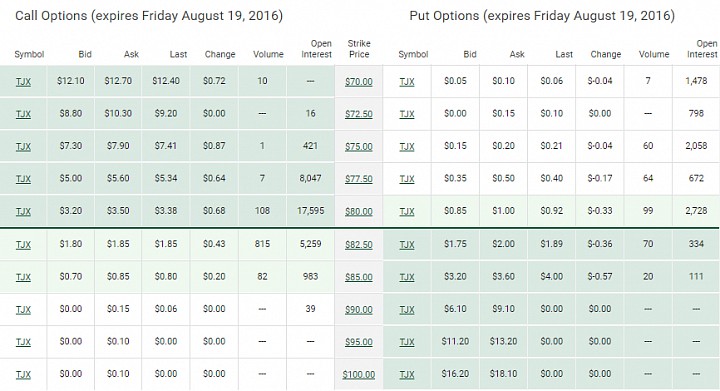 (Source: TD Waterhouse)
The one-week straddles (options with a strike price of $82.50 and expiring on August 19, 2016) are worth around 4.5% of the current market price of the stock. Historically, the stock has been more volatile than that on a monthly basis over the last year:

(Source: Google Finance. Calculations by author)
As you can see, the stock has had a monthly standard deviation of 6.7% over the last 52 weeks, while the straddle expiring in a less than two weeks has an implied monthly volatility of around 3.7% (calculated based on 6 business days remaining until expiration), also including volatility from the earnings event next week. I therefore see signs of overvaluation in these options. Hence, selling the straddles is a good idea from a theoretical standpoint.
Investors may also be interested in selling put spreads to lower the cost basis of the trade:

(Source: optionsprofitcalculator.com)
On the one hand, this will limit expected returns. On the other hand, this action will minimize losses in the event the stock moves swiftly over the next week. The risk-return profile of this trade looks like this: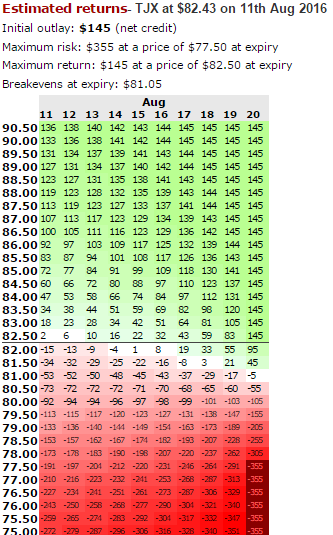 (Source: optionsprofitcalculator.com)
As you can see from the above illustration, the break-even price is around $81.05. This means that the stock has to move roughly 2.5% downwards from the current price by expiration in order for investors to start losing money. The risk-reward ratio of around 1:0.41 is in-line for this type of option strategies.