In this day and age, having a website for whatever company you are running is very important. A website stretches your reach to incredible lengths and you can access clients that would have otherwise been impossible with traditional methods.
Create a blog
Create a blog that is informative to your audience. Don't just give them information on your company on the blog, but also vital information in the industry you are in. Having knowledgeable articles on your blog not only makes the reader feel that you are more knowledgeable on the topic, but also makes you feel more trust worthy.
A blog is also a great SEO tool to boost your websites SEO ranking.
Keep the website simple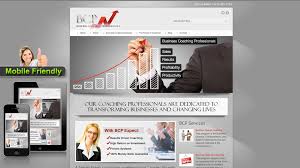 Your business home page should be easy to look at and have a simple theme. The user should be able to navigate through the website with ease. A complicated website will often discourage the person to use it.
Make the website mobile friendly
This is a great feature to have for any website. The use of smart phones and tablets being used to access the net is quickly overshadowing the use of a PC. Google has also taken note of this and is now ranking mobile friendly sites higher.