Introduction
PACCAR Inc (PACCAR), incorporated on November 19, 1971, is a company operating in three principal industry segments: the Truck segment, includes the design, manufacture and distribution of light-, medium- and heavy-duty commercial trucks; the Parts segment, includes the distribution of aftermarket parts for trucks and related commercial vehicles, and the Financial Services segment, includes finance and leasing products and services provided to customers and dealers.
Performance
At first glance, the main investment ratios of PACCAR are ambiguous: obviously, judging by the P/E ratio the company is undervalued, while the P/S and P/B ratios saying exactly the opposite.

Source: Table made by authors, based on data from Amigobulls
We think that in this case it's necessary to interpret them properly in order to get the idea of a company's true value. Actually the P/B ratio is not much higher than ones of Volvo and Ford, considering that Volvo (market cap $183,5b) and Ford(market cap $55,7b) are highly diversified businesses, in comparison with which PACCAR(market cap $17b) is a relatively small company. PACCAR, for instance, needs fewer fixed assets for its activity than Volvo and Ford and it can use them more effectively than Volvo and Ford as PACCAR specializes only in medium- and heavy-duty trucks. Fewer fixed assets means higher book value for a company.
We analyzed P/S behaviour and deduced that this is the worst value of the ratio over a couple of years, considering that there are no negative tendencies in the operating activities.

Source: Ycharts.com
In 2011 P/S had been higher than 2, what proves that 0,9 is a very small value for the company.

Source: Ycharts.com
Concluding, there is a need to say that the company is undervalued judging by the P/E ratio and there are convincing facts that high P/E and P/B ratios are a normal phenomenon for this company.
Operating activities
The Q3 report has showed that PACCAR is steadily and successfully increasing sales owing to Europe.

This could be explained by the fact that the company decided to focus on this market as there premises for the growth. (it will be the third market by volume after Russia and India).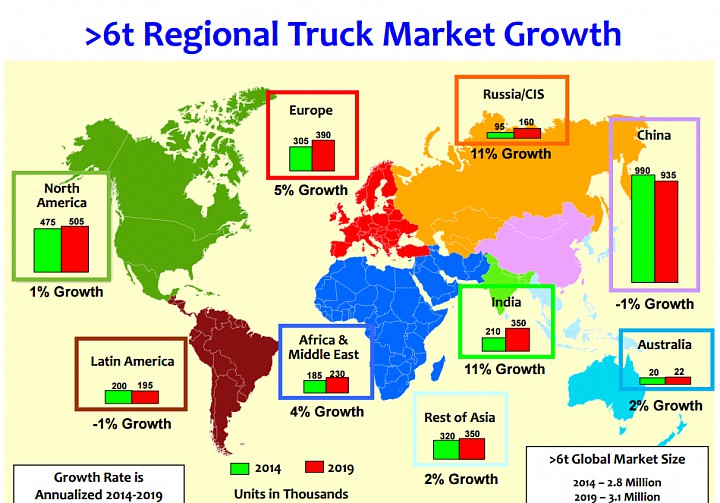 Source: Company's presentation
Investors with long-term goal should also consider persistent dividend payments (the company has been paying dividends for 74 years, which have increased by 165% during the last 5 years and generating net profit for 76 years). Revenues have been increasing since 2009.

Source: Company's report
EPS has also been increasing steadily.

Source: Company's report
PACCAr has a reliable credit rating (A1/A+), constant technological innovations, plans to increase the number of facilities and amplify global dealer network.
Since 2010, PACCAR has been relying less on Cummins engines and more on its PACCAR MX branded engines. PACCAR used its own branded engines in 21% of Kenworth trucks and 24 of Peterbilt trucks. PACCAR has been able to grow its MX engine business from the low 20% to 35% penetration in less than two years. By the end of 2015, the 50% penetration number will come to fruition. The MX engine penetration in PACCAR's trucks is steadily increasing, which is explained by the fact that they are more fuel efficient and cheaper.
Insider buying
There's an old saying on Wall Street about insider buying: there are many possible reasons to sell a stock, but only one reason to buy. Very often the price can be predicted when there is insider buying which constantly occurs. The shares bought by those who are close to the company leads to an increase in trading volume in the short-term and possibly in the long-term. When the insider buying by executives is perceived unambiguously, there is a possibility of the instant price growth. Traders tend to pay particular attention to insider, because presumably the only reason an insider would take their hard-earned cash and use it to buy stock of their company in the open market, is that they expect to make money.
One of the examples is the recent Applied Minerals share price change as a result of the insider buying by the CEO.

Source: Gurufocus
Similarly, after Kodak had reported Q3 loss, the shares plummeted by 36 %. In order to cope with the decline, the CEO and people close to him started buying shares, generating buzz in the market.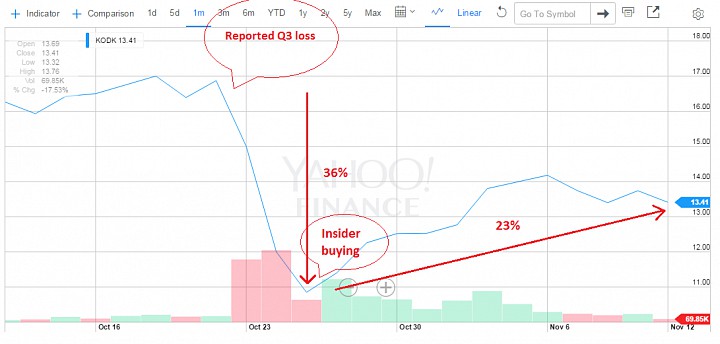 Source: Yahoo Finance
Back on November 3, PACCAR Inc.'s Vice President, Marco A. Davila, invested $34,539.75 into 645 shares of PCAR. Though there were bought not so many shares, this tells us that management is confident that the company and its shares will grow after the historic Q3 net profit. The market reacted precisely the same moment and shares climbed by 5%.
Conclusion
We issue a BUY recommendation due to the facts that say in favour of PACCAR's growth. Among the main drivers are the company's success in the European market. Additionally, one should pay attention to the insider buying which is an indicator of the possible share price growth. However, short-term investors should keep more detailed track on the market moves.
Disclaimer
We are neither holding, nor planning to open any position. We are merely presenting our opinion, intended to be used in the WhoTrades Investment Strategy Contest.